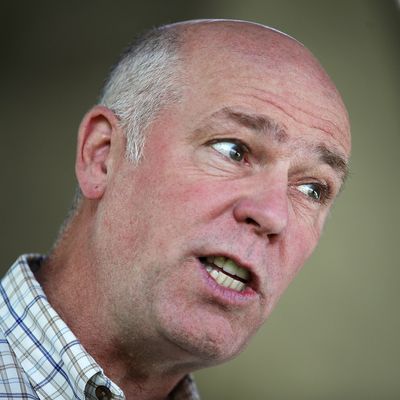 The angry Congressman.
Photo: Justin Sullivan/Getty Images
Montana Congressman Greg Gianforte will spend 40 hours helping a nonprofit build wheelchairs for children in order to fulfill the court-ordered community service he was handed after assaulting a reporter in May, the Bozeman Daily Chronicle reports.
The community service sentence, which will benefit Bozeman-based ROC Wheels, is part of his punishment for roughing up Ben Jacobs, a reporter for The Guardian. Despite the highly publicized incident on election eve, Gianforte went on to win the special election for Montana's only House seat, which was left vacant when Ryan Zinke became secretary of Interior.
As a part of his punishment, Gianforte also has to undergo 20 hours of anger management, which he must complete by the end of December.
Gianforte has maintained a low profile since arriving in Washington, but the national media did take notice of him once after his swearing in. After President Trump tweeted a video of himself wrestling with the CNN logo, reporters asked Gianforte if he would have sent the same tweet himself. Proving that he's a quick study in the ways of Washington, he didn't offer a firm answer. "I'm not sure," he said, before adding that the tweet was "a distraction."