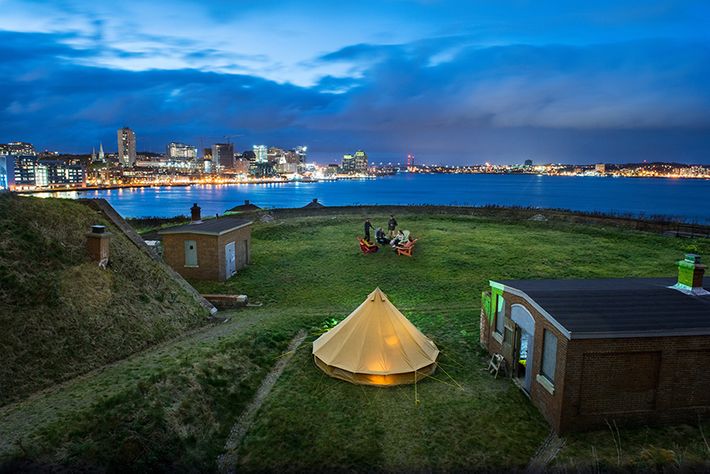 If you're looking to be one with nature, but also appreciate a cozy bed and dinner that doesn't come out of a can, rejoice – we've found your next ideal getaway.
This August, Kayak Halifax is offering an enticing excursion: An exceptional private island glamping adventure set in the heart of Halifax Harbour, featuring gourmet chef-prepared meals, live local music, and guided hiking and kayaking tours. Getting to Nova Scotia is surprisingly easy, especially from the northeastern U.S. – Halifax is only about a two-hour flight from New York, or you can catch a high-speed ferry from Portland, Maine to Yarmouth, Nova Scotia and drive the rest of the way.
It's the perfect opportunity to knock glamping off your bucket list (and make all your Instagram followers insanely jealous while you're at it – Nova Scotia has beauty in spades). Here's what to know about this unique excursion.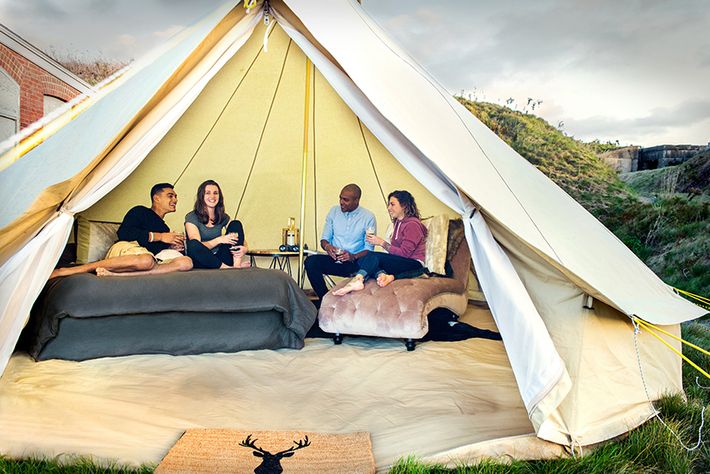 The Halifax Harbour islands are the ultimate destination for an unforgettable glamping adventure that blends culture, nature, and history. You'll almost certainly be charmed by the unique combination of man-made landmarks (historic forts, lighthouses, and underground tunnels) and natural landscapes (including idyllic beaches and coastal forests) of McNabs Island and Georges Island — all set against the scenic backdrop of the picturesque Halifax Waterfront.
Spend the night in a well-appointed, safari-style canvas tent within the walls of Fort Charlotte, and soak in the scenery around a cozy campfire. Your group of up to 18 guests and hosts will be the only inhabitants on the island.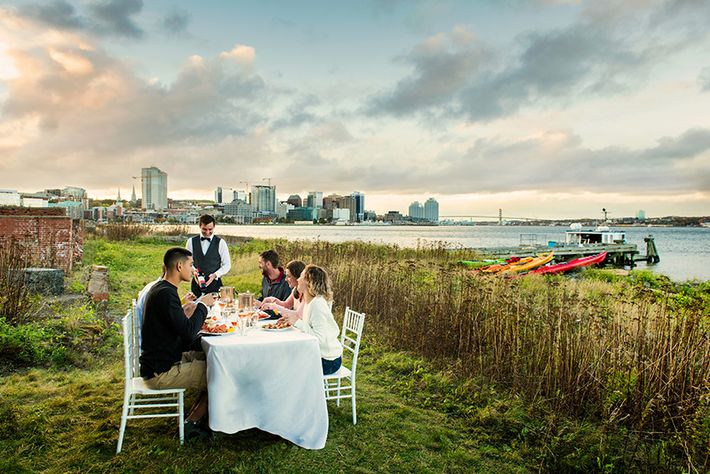 Mealtime during your glamping adventure infuses traditional campground fare with elements of fine dining.
Begin the day at the Maritime Museum of the Atlantic with an exclusive, intimate breakfast prepared by a local chef. After a morning working up an appetite via a variety of outdoor activities – namely, kayaking and hiking – sit down to an oceanside picnic lunch featuring local flavors from Nova Scotia's land and sea. Opt for the East Coast-themed picnic menu, and indulge in fresh salmon, Atlantic ice shrimp salad, and more, or choose the "Local Market" menu for specialties like Digby scallops, and meats and cheeses from favorite Nova Scotian farms.
In the evening, watch the sun sink over the city skyline while enjoying a gourmet, chef-prepared dinner complete with award-winning craft beer and local wine, including Tidal Bay, Nova Scotia's signature crisp white wine. Finally, end the evening in true glamping fashion: sharing stories around a fire while munching on ice-wine-infused marshmallows and delicious s'mores, all to the sounds of local musicians.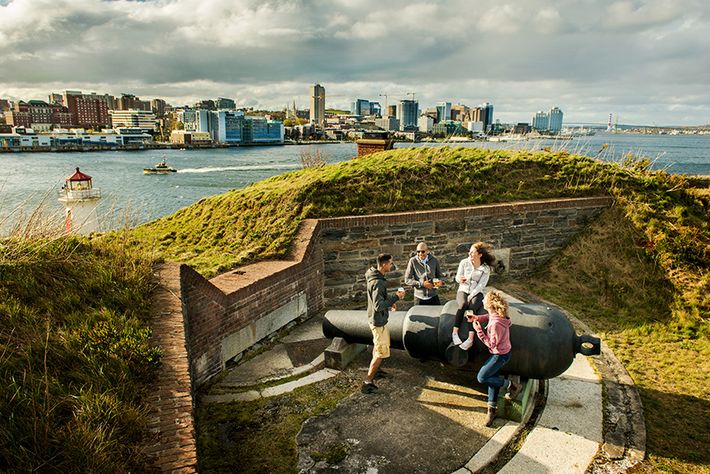 Here are just a few of the activities you'll experience during your glamping adventure.
Guided tour of Georges Island National Historic Site: Tap into your inner Indiana Jones and explore the labyrinth of tunnels just underneath Fort Charlotte. A seasoned guide will explain the significance and history of the tunnels while expertly navigating you through the maze.
Guided kayak tour of Halifax Harbour: See the coastline from the unique, sun-soaked perspective of a guided kayak tour that takes guests on an easy paddle around Georges Island National Historic Site.
Guided hiking tour of McNabs Island: From the island's impressive forts and lighthouse to its beautiful sandy beaches and coastal forests, a morning spent touring McNabs Island by foot offers a little something for every type of adventurer.
Wildlife watching: Find yourself up close and personal with nature. During the course of the day, keep an eye out for some of Nova Scotia's wildlife, which includes sea mammals like seals and whales, as well as land animals like birds, foxes, rabbits, and whitetail deer.
Campfire history lessons: Learn the legends of the harbour islands while sitting around a crackling campfire and listening to the soothing sounds of live local music.
If this is the journey for you (how could it not be?), get planning your summer getaway or book a trip for next year – the exclusive experience is available for only two weeks every August.
This is paid content produced for an advertiser by New York Brand Studio. The editorial staff of Daily Intelligencer did not play a role in its creation.