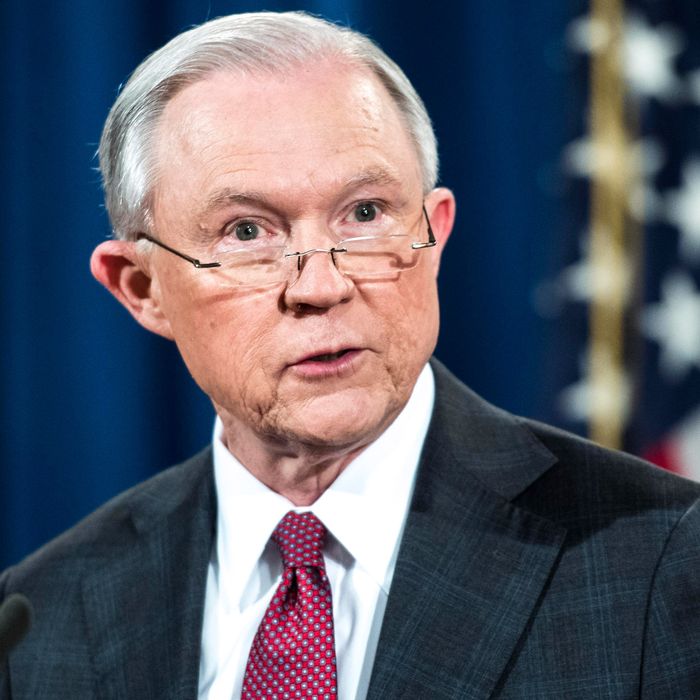 Leave me alone!
Photo: Melina Mara/The Washington Post/Getty Images
Jeff "Beleaguered Beauregard" Sessions took another beating from President Trump on Twitter today, with the president lambasting the attorney general over his refusal to take action against America's greatest national security threat, Hillary Clinton.
Later in the day, Trump once again went after Sessions in an interview with The Wall Street Journal, telling the paper he was "very disappointed" in his attorney general. And the hits kept on coming: At a joint press conference with the prime minister of Lebanon, Trump answered, "We'll see, time will tell" to a question about why he hadn't yet fired Sessions.
But a raft of Republican senators, representatives, and other influential party members have come to Sessions's defense, indicating that his rock-solid conservative bona fides may be enough to prevent the kind of feeding frenzy that has befallen other Trump appointees.
Among the senators strongly backing Sessions: Lindsey Graham, who wrote on Twitter that "President Trump's tweet today suggesting Attorney General Sessions pursue prosecution of a former political rival is highly inappropriate"; Ted Cruz, who swatted away rumors that he might be appointed attorney general in his place; and Alabama's Richard Shelby, who gave Sessions "my unwavering support." Others, like North Carolina's Thom Tillis and Ohio's Rob Portman, offered slightly squishier endorsements. GOP eminences like Jim DeMint and Ken Blackwell also weighed in on Sessions's side. One notable exception was House Speaker Paul Ryan, who, when asked about Trump possibly firing Sessions, said, "that's his prerogative." Another dissent: Roger Stone, who advised Trump to "can this loser."
Notably, the pro-Trump website Breitbart denounced the president for his Sessions-bashing. Breitbart writer Adam Shaw wrote that Trump's criticism of Sessions over failing to prosecute Hillary Clinton "only serves to highlight Trump's own hypocrisy on the issue — and is likely to fuel concerns from his base who see Sessions at the best hope to fulfill Trump's immigration policies." The piece may be an indicator of where Steve Bannon, who ran the site before joining the Trump campaign, falls on the Trump versus Sessions spectrum.
With his promise to crack down on sanctuary cities, anachronistically punitive drug policies, and reflexively pro-police posture, Sessions embodies the harsh vision of the world that helped sweep Trump into the White House.
All that matters less to Trump than Session's recusal in the Russian election-interference probe, which the president considers a personal betrayal. Trump's constant undermining of Sessions is seen as an effort to get the attorney general to resign in lieu of Trump having to fire him — a process the president shies away from, despite his famous catchphrase. Ultimately, Trump seems to want to replace Sessions with someone who will agree to fire Special Counsel Robert Mueller, though that process is more complicated than it might appear.
But the Daily Beast reports that Sessions isn't going anywhere, despite his mounting anger at Trump's behavior. "Sessions is totally pissed off about it," a Sessions ally said of the president's attacks. "It's beyond insane. It's cruel and it's insane and it's stupid."
Still, Sessions has "several hard-core fans within President Trump's top ranks," including Bannon and Miller, who could give him political cover to stay on and withstand the storm. And "unlike other members of Trump's cabinet, he has political wiggle room to do so."
This post has been updated to include more reactions to Trump's denunciations of Sessions.