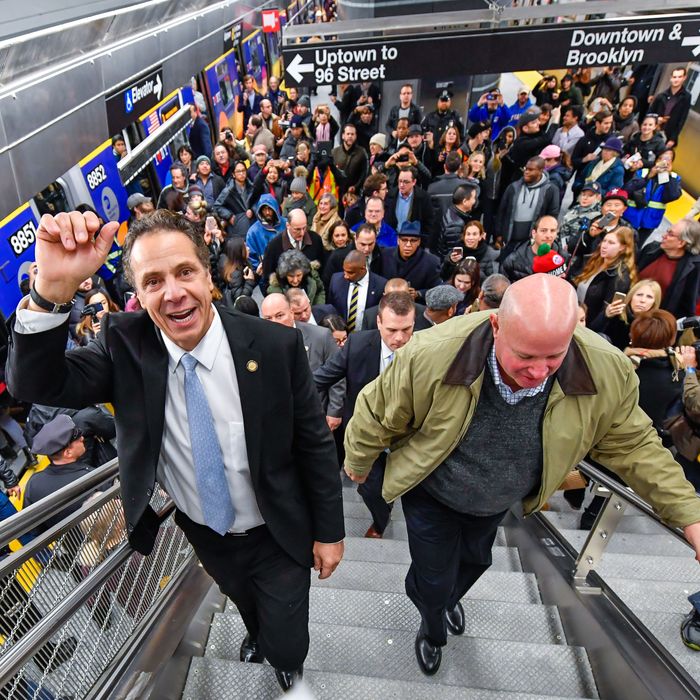 Evidence.
Photo: Darren McGee/Office of Governor Andrew M. Cuomo
Governor Andrew Cuomo had no problem taking credit for the opening of the Second Avenue subway, but now that the party is over and NYC's subways are beset by chronic disruptions and delays, the governor seems less than enthusiastic about being associated with the state-run transit agency that is, in fact, under his stewardship.
Last month, Cuomo suddenly stepped in and declared the MTA to be in a state of emergency. But now the governor claims that doesn't include the MTA's New York City subways:
This is, to borrow a phrase from the president, "fake news": The MTA is a state agency, and so it's the governor's responsibility. Mayor Bill de Blasio isn't totally off the hook for transportation issues. The city could do a lot to ease public-transit woes — for example, expanding bus service or building more bike lanes. But that's separate from the subways. New York City also contributes funds to the MTA, including $2.5 billion to the capital budget, and could potentially provide extra money as needed — but constant sparring between City Hall and Albany probably doesn't help in that regard.
Cuomo's comment came after accusations that the governor was spending money on fancy choreographed light shows on MTA bridges while the subway infrastructure crumbles, which de Blasio didn't miss the opportunity to criticize. But what's even more bizarre is that Cuomo-appointed MTA chair Joe Lhota appears to be following the governor's lead.
It appears that Lhota was trying to make the case that New York City should contribute more money to the MTA to fix the subways, though the message got muddled — as transit advocates and reporters were quick to point out.
And here's Mayor de Blasio's spokesperson's reaction:
Meanwhile, New York City subway riders can look forward to whatever fresh hell Friday morning's commute will bring.