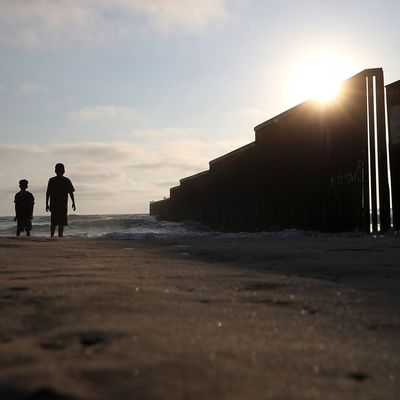 People stand by the U.S.-Mexican border fence at Playas de Tijuana during a Fourth of July gathering on the beach on July 4, 2017, in Tijuana, Mexico.
Photo: Justin Sullivan/Getty Images
House Republicans are moving on President Trump's signature campaign promise to build a "big, beautiful wall." The House Appropriations Committee has met the administration's ask and included $1.6 billion for construction of a border wall next year in a Homeland Security spending bill, reports Politico. Funding for the wall is almost certainly going to be a nonstarter for Democrats, and could potentially set up the first government-shutdown battle of the Trump era.
The $1.6 billion is still chump change when it comes to the cost of funding the entire wall — which the Department of Homeland Security has estimated at more than $21 billion. That figure is part of a total of $13.8 billion allocated in the spending bill to customs and border protection. In addition to the wall money, it adds $100 million to hire more border agents and $131 million for new technology. According to Bloomberg, another $620 million will also be allocated to immigration enforcement.
Democrats and Republicans reached a deal in May to avert a government shutdown by leaving out such deal-breakers, money for the southern border wall among them. But it seems as if the Trump administration and its GOP allies on Capitol Hill are angling for a fight this time around. (Perhaps this is not a surprise given that the president had tweeted earlier this year that "our country needs a good 'shutdown' in September to fix mess!") It seems safe to conclude that Mexico isn't paying for the border wall after all. No word about the solar panels, either.