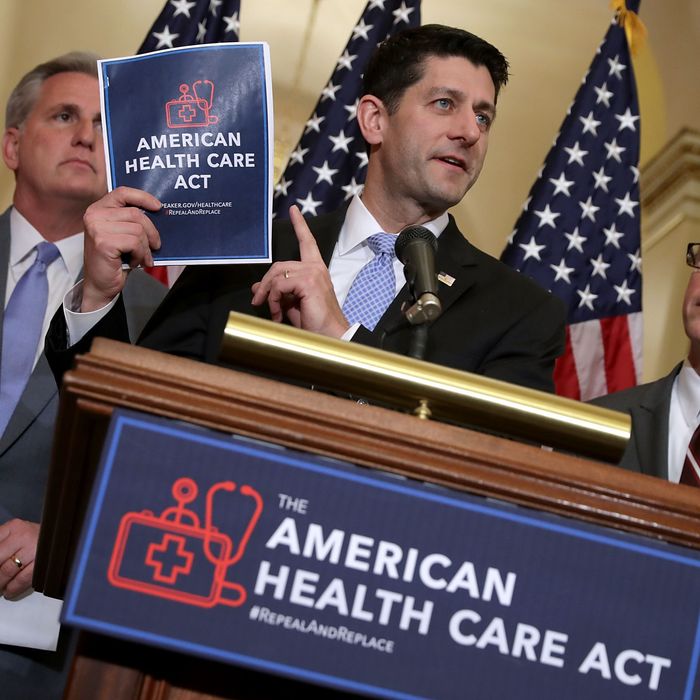 Hey, Mitch, have you tried this?
Photo: Chip Somodevilla/Getty Images
When the House passed their Obamacare repeal-and-replace bill in May, many members openly admitted that they didn't really care for it. "Is this bill good? No, I don't like it," Representative Mario Diaz-Balart said, right after voting for it.
So why even pass the American Health Care Act? Because House Republicans need to say they voted to end the tyranny of Obamacare and that they were promised the Senate would come up with something better anyway. As Politico reported at the time, that was actually part of the Trump administration's pitch:
White House officials have argued to lawmakers that the bill will look totally different in the Senate and they just need political momentum. "Everyone knows this won't be the final product," one senior administration official said. "So if you don't like something, it's fine."




"We have to have a win on this," this official said. "We don't have a choice."
House Republicans went off to celebrate AHCA's passage at the White House as Senate Republicans grudgingly got to work on an entirely new plan to repeal Obamacare. Weeks later, master tactician Mitch McConnell unveiled the new and improved plan he'd been toiling over in secret — and it was basically the same as AHCA.
That legislation — the Better Care Reconciliation Act — was pronounced dead multiple times this month, and on Tuesday night, it was finally voted down.
But Obamacare repeal still isn't dead. The majority leader is currently steering the Senate through treacherous, uncharted legislative waters, toward a place he calls "skinny repeal." According to a Congressional Budget Office score released on Wednesday night, ending the individual and employer mandates would still take health insurance away from 16 million Americans. That doesn't really matter since "skinny repeal" is a state of mind, not an actual location. While there's some disagreement below deck, most senators concede that the goal isn't to enact the mysterious legislation, but to use it to start a health-care conference with the House. Then, for the next few weeks (or maybe even months!), they'll be free to declare that they've almost agreed on an amazing plan to repeal Obamacare.
It's basically Republican paradise. But rather than cheering that land is on the horizon, on Wednesday, House conservatives attacked the vessel McConnell is using to get them there. Per the Daily Beast:
"It's nowhere near repeal. I mean, even the repeal bill isn't repeal because all the regulations stay in place," Rep. Dave Brat (R-VA), an outspoken member of the hardline conservative House Freedom Caucus, told The Daily Beast. "People need to get out their Webster's dictionary and look up the word repeal — and then see if your representative is staying true to their word."




He wasn't finished.




"I mean, what's a skinny bill?" Brat added. "So we're talking about controlling one-fifth of a $20 trillion economy. And our new creative idea is a skinny bill. So this is the Fatal Conceit up in the bubble that you can dictate one-fifth of the economy with clever phrases … It's bizarre."
Representative Paul Gosar, another Freedom Caucus member, scoffed at the idea of considering the Senate legislation. "I'm not interested in having a vote on something that they've done," he told the Post. "If you don't change the trajectory on lowering prices, rebuilding the market and having choices, dress that pig up however you want to — it's still Obamacare."
House Freedom Caucus chair Mark Meadows agreed that "skinny repeal" would be "dead on arrival" in the House, but he said he understands it's "just a vehicle" for a conference.
Some House conservatives said they're open to a conference committee, but it should be on their terms. Representative Greg Walden told Politico that AHCA — the House bill that even members of Congress hated — should be the starting point for negotiations.
"Yes, it's the most comprehensive product so far," Walden said. "We did our work over here with comprehensive repeal and replace … The more that they can work toward what we passed here, the better for the country."
While it's possible that Republicans won't even manage to get "skinny repeal" out of the Senate, Mark Walker, chair of the conservative Republican Study Committee, is already worrying about the choice the House will face if a conference fails to produce a GOP health-care consensus.
"It's very difficult to predict how the House wants to deal with that," he said. "Do we just take what we can get and move on? Or do we say, 'No, these are the fundamental foundation of the promises we made to the American people, and you guys didn't deliver on it.' So that's where we are."
Curse Senate Republicans for putting them in this terrible position!