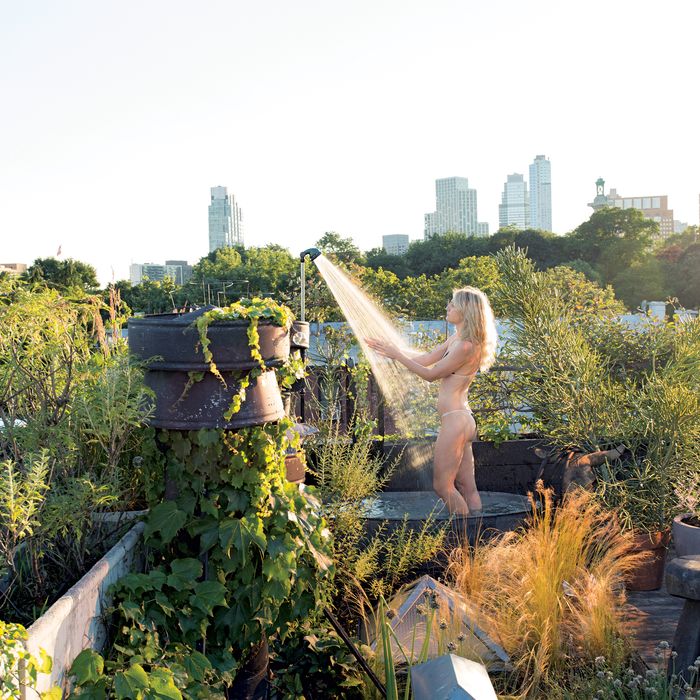 A verdant Fort Greene rooftop-shower setup.
Photo: Tobias Hutzler
The private outdoor shower is one of the city's rarest—and least practical—amenities. That hasn't stopped these New Yorkers from hooking up hoses on their rooftops or building Parisian spas on their terraces. Plus, how to rig up your own without riling the co-op board.
Meet the Outdoor Showerers
A Hose and a Tub in Fort Greene (pictured above)
"It's simple: I ran the hose from the basement through the gutter. I'm a landscaper, and I've built hot tubs and saunas on other people's roofs for work, but since I'm renting, I didn't want to overinvest in someone else's place. Plus I built a green roof up there and wanted to let the plants do most of the talking. It's just a hose, so it's freezing. I use it after a run or when it's extremely hot. I also put my muddy clothes from work under the water — like a flop sink in an old country house." —Brook Klausing, landscape designer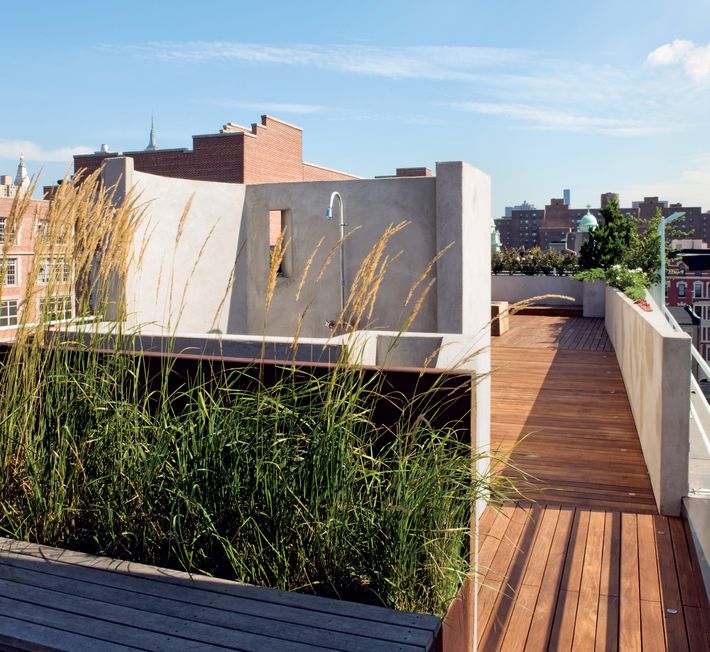 A Brutalist Eden in the East Village
"Getting this done took nine different experts. There was me, the architect; a structural engineer; and a carpenter. Plus a structural steel guy, a plumber, a roofer, a plastering guy to do the stucco, and a woodworker who built the deck and the shower bench out of ipe, a durable type of Brazilian wood. We also hired a forensic architect — he usually works as an expert witness in trials involving failing buildings — to convince management that opening up the brick parapets to pocket the steel beams wouldn't create any leaks. He helped us sleep better at night, too." —Jon Handley, architect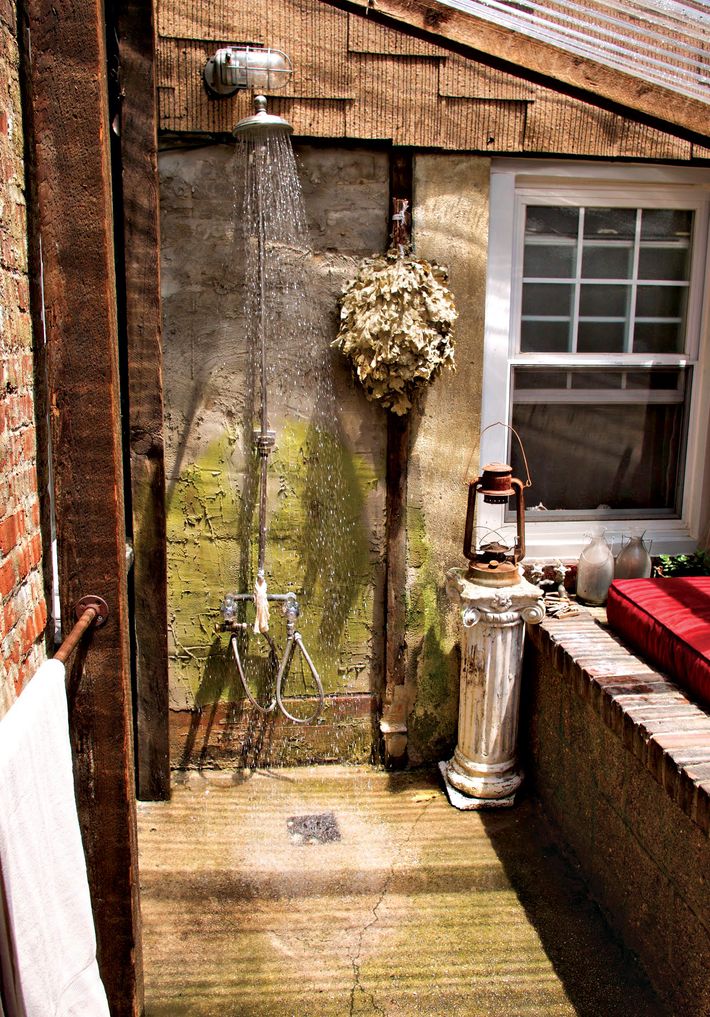 A DIY Rinse Station in Greenpoint
"When I moved into this apartment, it was in rough shape and had no tub or shower. I noticed a drain in the backyard, and then one of my neighbors left a showerhead with a pipe attached on the sidewalk. A friend of mine, a musician who's done construction, helped me build the shower. He thought I was crazy. We laid pipes from the boiler room: one for cold water, one for hot. It only took a few days, and it wasn't expensive; I bought copper piping and a couple lunches for my friend. All told, it cost less than $250. And I use it 11 months out of the year."—Magdalena, event producer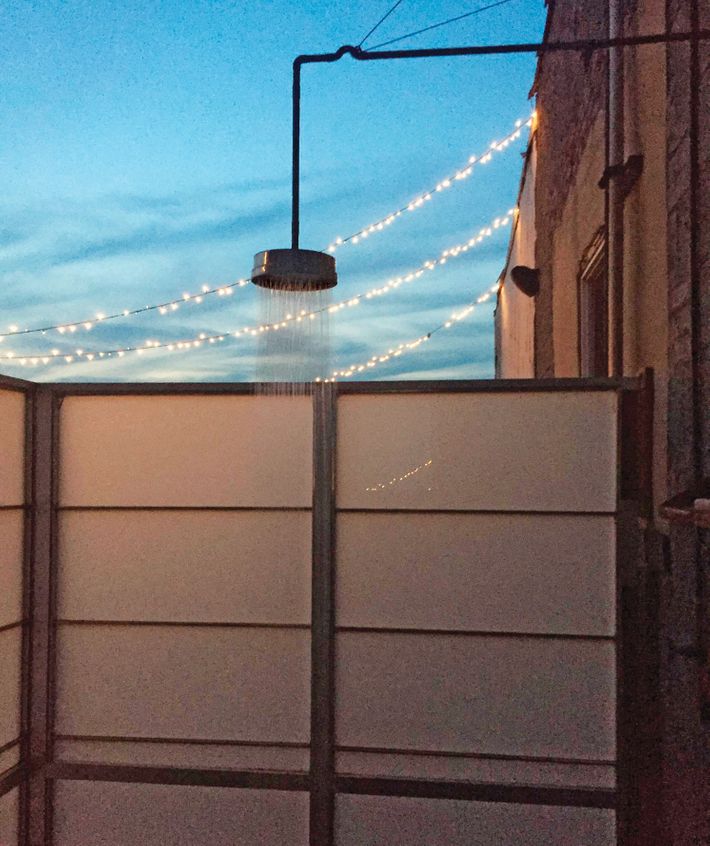 A Martha's Vineyard–Inspired Shower in Williamsburg
"I spent years building out funky spaces for artists who could afford whatever they wanted, so when I finally got to do my own place, I thought of the outdoor showers I enjoyed when I was a carpenter in Martha's Vineyard. Hot water outdoors is the most decadent thing — fancier than the softest bed. We built ours in 2012, when East Williamsburg was empty. It was like being in a concrete field totally alone and naked. But a couple years ago my buddy saw a drone go by with a camera, pointing straight at our rooftop. Maybe it was Google doing topography, or maybe it was just a crazy dude exploring, but it was an eye-opener, so we set up some old frosted-glass cubicle walls for privacy." —Gordon, artist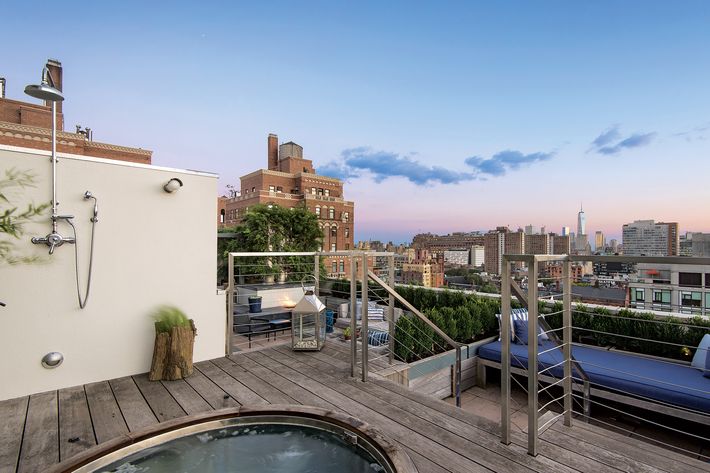 A Bare-It-All Roof-Deck in Chelsea
"The original owners wanted a taste of beach life, so in 2007 they put in a hot tub and an outdoor shower on the 1,300-square-foot roof-deck. The views from the shower are incredible, almost 360 degrees. When I showed the house, there were some timid responses. Like 'Oh my — I'm not sure I could be naked in front of New York.' But it helped sell the place. I've never sold another apartment with an outdoor shower. Actually, I've never even seen another one." —Greg Stephen, real-estate agent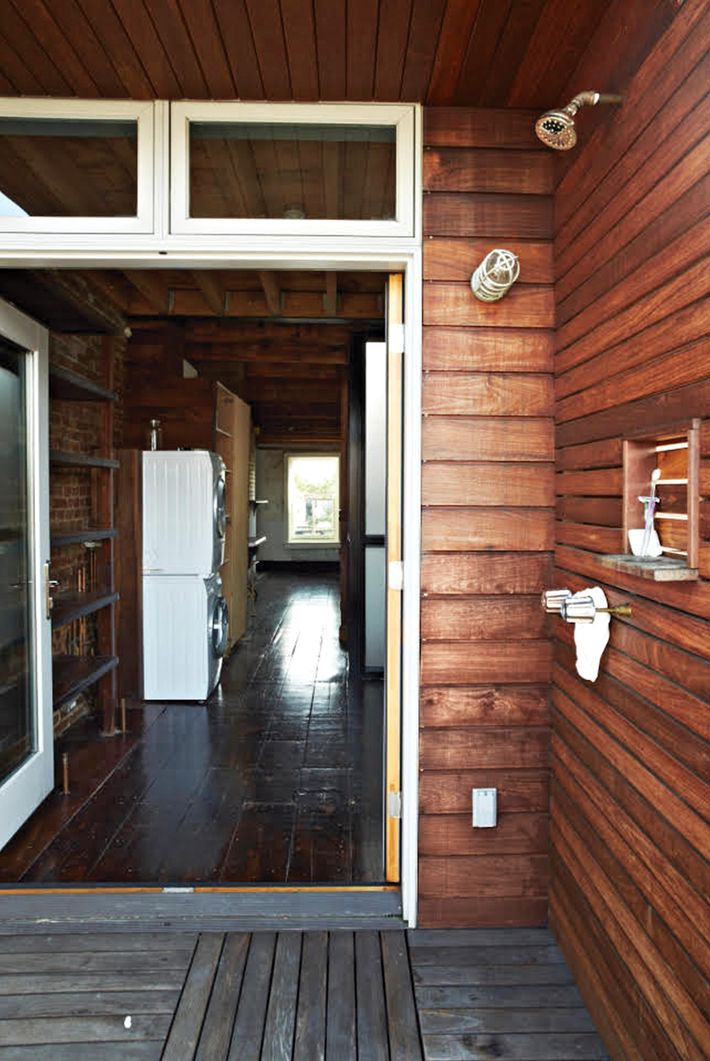 A Year-Rounder in Bed-Stuy
"We moved into our house while we were renovating and got a leak in the indoor shower. It was summer, and my girlfriend's family was staying with us. So we hooked up a hose and took 55-degree showers while sitting down on the deck so our neighbors wouldn't see us buck naked. When we decided to make a proper outdoor shower out there, it was easy: It was a gut renovation, so we just brought the pipes out to the patio. I definitely took a few showers while it was snowing and plenty at night with the curtains pulled back so I could see the lower-Manhattan skyline." —Eli Fernald, designer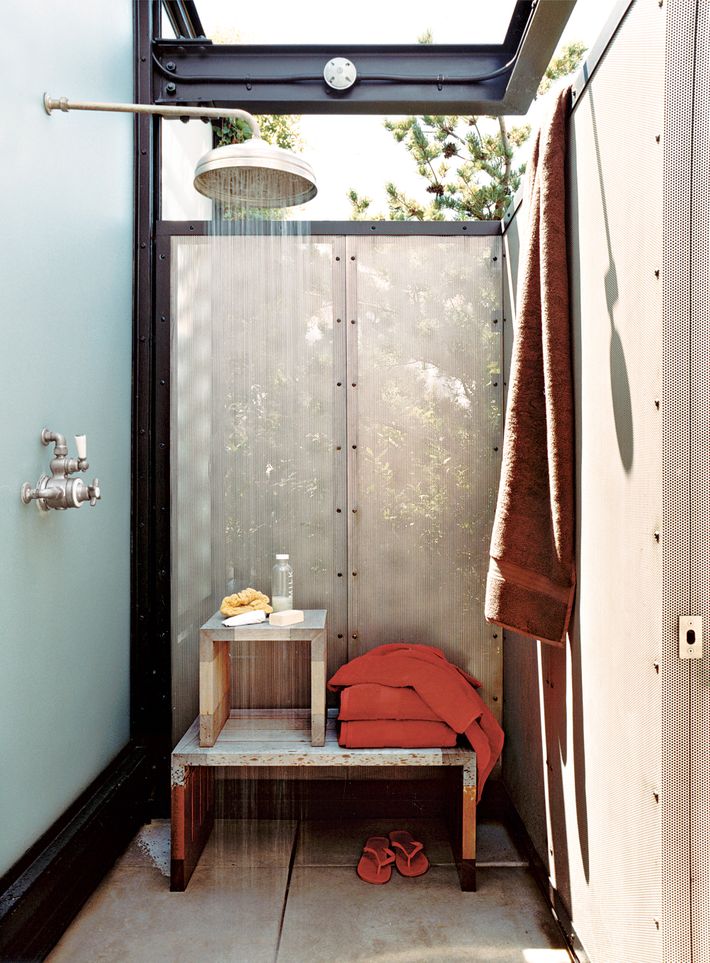 A Fragrant Spa in Chelsea
"The perforated-metal-and-black-steel roof-deck is inspired by Pierre Chareau's glass house in Paris. We covered the shower walls with plants that smell wonderful when they're wet, like lavender, rosemary, scented geraniums. And for privacy we put an enormous pine tree by the shower. Not that the owner minds being seen — he has an entire floor-to-ceiling window in his indoor shower." —Brian Sawyer, architect
Just Add a Hose
Freestanding showers for those who don't mind it cold.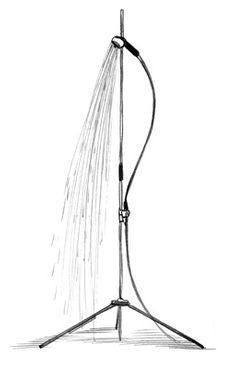 Gardena 960 Garden Shower, $100 at amazon.com.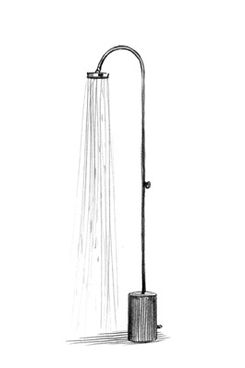 Seletti Aquart Garden Shower, $325 at shophorne.com.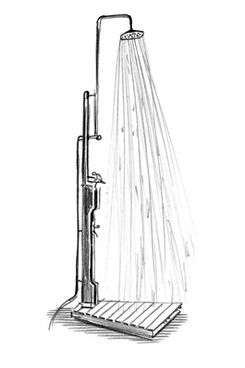 Pottery Barn Outdoor Shower, $400 at potterybarn.com.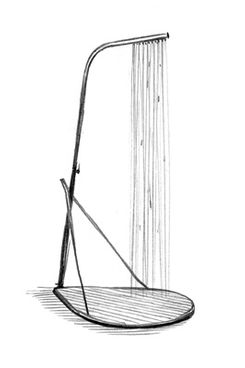 Pasaia by Mermelada Estudio Shower, $1,680 at yliving.com.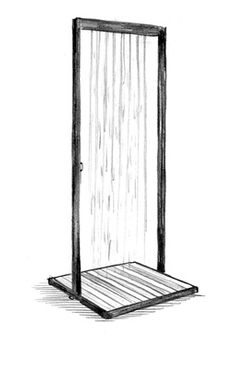 Broberg & Ridderstråle Garden Shower, $3,330 at finnishdesignshop.com.
Know Before You Bathe
Architects, designers, and a real-estate agent share a few tips.
• An outdoor shower can increase property values. "I tell buyers, 'You will pay a premium for this.' An amenity like an outdoor shower can add 10 to 20 percent to the selling price." —Barbara Helms, real-estate agent at Compass
• Consider solenoid valves. "People will usually shut off the water by hand in the winter, but if you forget, then there's going to be damage. I recommend solenoid valves, which cost about $200 and can be installed in place of manual ones. They use an electric current to control the water flow; if you add a temperature-sensing device, they automatically shut off the water when the cold weather drops to a certain degree." —Ryoko Okada, director of interior architecture at ODA
• And a solar-energy tank. "Installing a hot-water shower is complicated because you have to extend plumbing from inside. One way to avoid this is getting a solar water heater, like they use on sailboats. It's a tank that you hook up to the water line. It's not a lot of water but enough for a quick shower." —Billie Cohen, landscape designer
• Building regulations are not set in stone. "For an East Village outdoor shower I did, the clients needed a barrier between the neighbors. Partitions can only be six feet high — that's the max, so you don't block a neighbor's light. But a showerhead is higher than six feet. We asked for eight feet and were able to get seven feet from the building. Then we created a trellis top with plants, to add more coverage. You never know until you ask and you try." —Jeffrey White, architect at Ecology Architecture Urbanism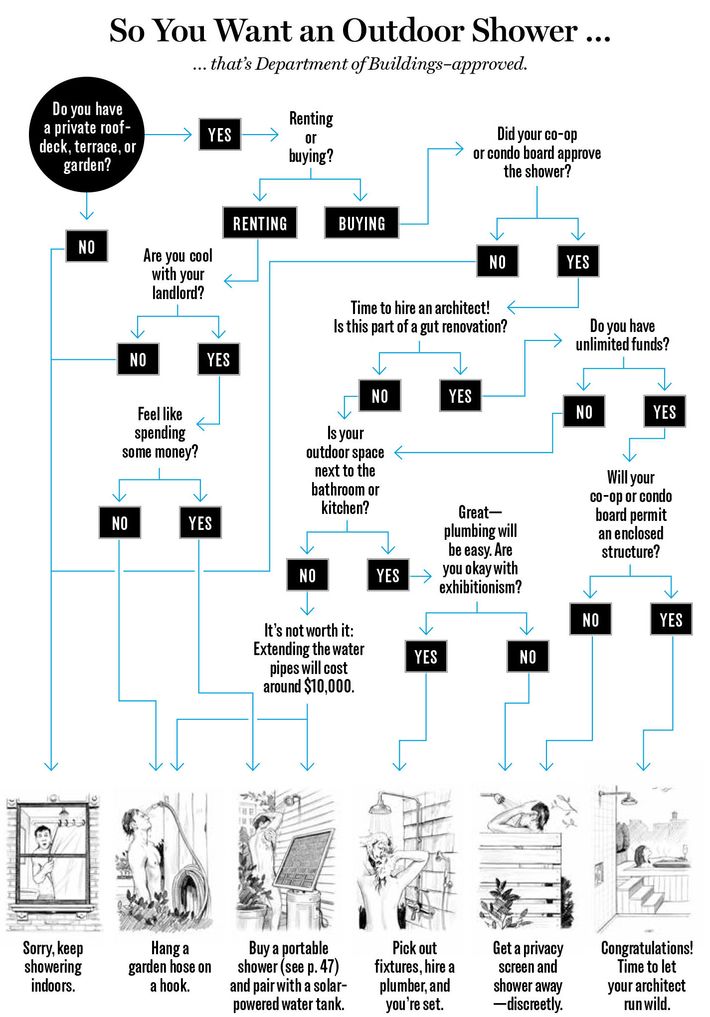 *This article appears in the July 24, 2017, issue of New York Magazine.