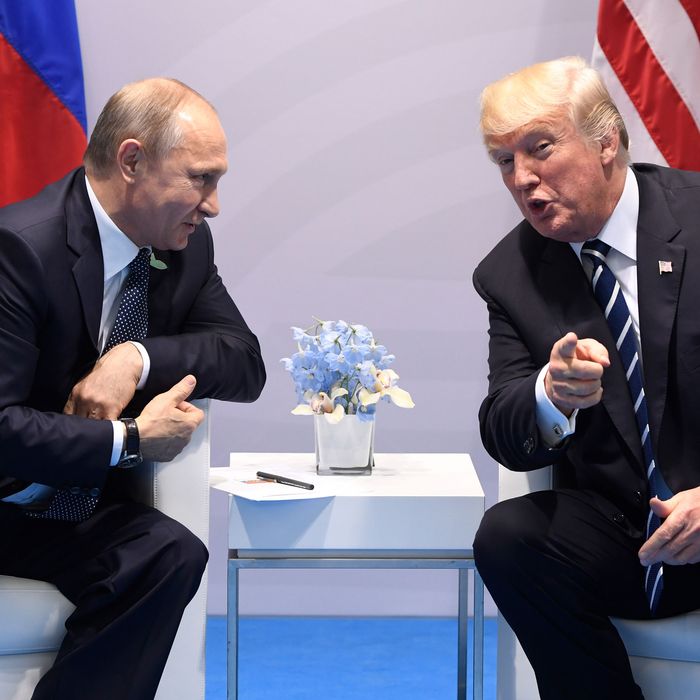 Putin and Trump.
Photo: Saul Loeb/AFP/Getty Images
Last week, while health care grabbed the headlines and much of President Trump's national-security cabinet was conveniently on vacation, both Iran and North Korea tested new missiles. Over the weekend, a source explained to reporter Laura Rozen that "the administration wants to do North Korea and Iran in year one, to go into 2018 with national security capital."
While foreign-policy pros snorted into their weekend coffee, Moscow made other plans. On Sunday the Kremlin told the U.S. that it would have to reduce embassy staff by a very substantial amount: "Over 1,000 employees — diplomats and technical workers — worked and continue to work today in Russia; 755 will have to stop this activity," Vladimir Putin said.
Putin is angry about the just-passed round of additional U.S. sanctions on Moscow, launched as a bipartisan project in the Senate out of frustration that the Trump administration not only refuses to acknowledge Moscow's mischief in U.S. elections, but refuses to take any action in response.
To everyone's surprise, the outcome is the first major legislative achievement of this Congress — a broadly supported bill that puts unprecedented limits on the White House's freedom of action toward Russia. Many of the bill's most enthusiastic backers saw it as a weapon in the U.S. domestic struggle. Perhaps unsurprisingly, Putin found opportunity in it to build some capital in his home politics, stoking Russian nationalist and anti-U.S. sentiment with moves straight out of the Cold War playbook.
Now President Trump is going to have to spend the coming days and weeks deciding how much of a new Cold War he wants to have with his old friend Vladimir Putin and what he'll have to give up, at home and abroad, to stave off the chillier scenarios.
From Moscow's perspective, Putin has been more than patient. Seven months ago, then-president Barack Obama expelled 35 Russian diplomats from the U.S. and took away access to a couple of vacation homes/spy compounds used by Russian diplomats here in response to election-hacking allegations. Reassured by Trump adviser Michael Flynn that relief was coming soon (and clearly engaged in back-channel meetings with Trump officials and family members), Russia didn't retaliate.
Moscow clearly has found the reality unappealing: Endless bad-mouthing from the U.S. press and defense officials; mounting U.S. activism in Syria, bumping up against Russia's own troops and its allies; no return of its compounds; no sanctions relief. On top of all that, Trump can't stop his own Republican Party from partnering with Democrats to pass more sanctions — and worse, he has announced he'll sign them.
The Russian policy establishment responded with "disgust, disdain and contempt," in the words of one foreign policy think-tanker. And behind that, a certain amount of fear and frustration, that Russia's natural-resource-dependent economy cannot get the investment it needs to grow sustainably under sanctions, while Russia's military adventure in Syria cannot be brought to an end as long as the U.S. is building up its forces there.
Putin's call this weekend for all those hundreds of embassy employees to pack up certainly sounds spectacular — but expelling each other's diplomats, and making life miserable for embassy staffers, is one of the oldest tricks in the U.S.-Russian, and before that, the U.S.-Soviet, playbook. Although the Russians hadn't made a major expulsion since 2001, before that it was as routine as shirtless photos of Putin have become in the years since.
This writer recalls a time in 1991 when Embassy Moscow was so understaffed that it had no one to load the luggage of visiting members of Congress onto their airplane — so the members, most notably Congressman Ben Jones, best known for playing Cooter on The Dukes of Hazzard, jumped out to help. (But I digress.)
These cuts and changes will mean fewer staff do more work, and fewer support staff doing everything from maintaining the embassy grounds to greeting visa applicants. As former ambassador Michael McFaul has pointed out, the first people to suffer will be Russians who want visas to visit the U.S. — and Russians who are currently employed by the embassy, who will likely make up a large proportion of the positions cut.
Commentators in Washington and Moscow stressed that the expulsions were "symmetrical" with Obama's moves against Russian officials. Which means that a cycle of retaliation could end right there.
Or not. The sanctions bill passed by Congress gives the president considerably less discretion in applying its measures than is normal. For example, the president may not lift sanctions related to cyberattacks or Ukraine without providing Congress evidence that Russia has changed its policies — no generic "national interest" waiver, as is the norm. So in this key arena he doesn't have much to warm things up.
Moscow may be content with symbolism for now, or it may be weighing other options of its own. Russians are chattering about the possibility of cutting uranium or titanium exports to the U.S., expelling major U.S. firms, or going into high diplomatic gear to block U.S. initiatives on North Korea and other priorities.
And there you have irony worthy of a Russian novel. Donald Trump, who seems to have needed Russia to float his family's businesses and give his campaign various nudges in what proved to be a razor-tight outcome, now needs a much-disappointed Russia to help keep Syria at a simmer instead of at a boil, put unified pressure on North Korea, and not to stir up trouble in Iran or Afghanistan.
That would be a challenging line for a deft president, with an experienced and empowered cabinet, to walk. Instead this president has a missing-in-action secretary of State, a secretary of Defense he just blindsided with personnel micromanaging, a secretary of Homeland Security he just demoted to be his chief of staff, and a national security adviser whose job seems to be hanging by a thread. Moscow's greatest win yet from Donald Trump is that Putin now seems to be the only leader who knows what he's doing.