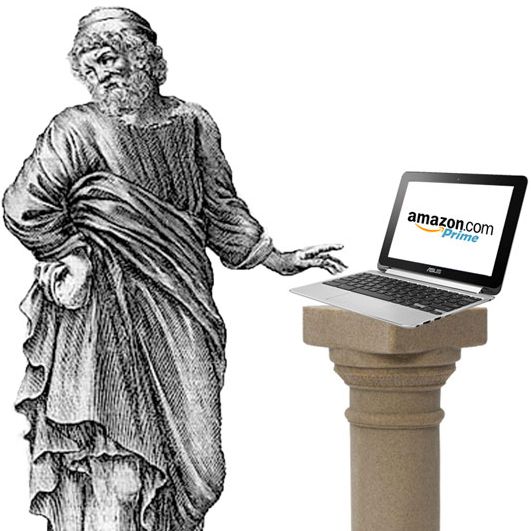 Pyrrho, the first Greek skeptic philosopher, sees no need to pay $100 a year to Amazon when you can simply spend $25 or more and get free shipping on any order, regardless.
Amazon's annual Prime Day sale falls on July 11, 2017, this year. (Technically, it'll start at 9 p.m. ET/6 p.m. PT on Monday, July 10.) Like Christmas and Halloween, Prime Day just feels like it comes earlier and earlier every year.
There's already solid deals for the attentive, including a deal for $1 for four months of Amazon Music and a Kindle Paperwhite for $90. But the big deals won't come until next week, and unlike Amazon's barrage of holiday deals, all of these steep discounts will only be available to Amazon Prime members. The question, of course, is whether Prime is really worth $99 per year (or $8.25 per month). Well?
Why would I pay $100 for some free shipping?
Good question! My best answer is from my own experience in 2013. We had just moved into a fourth-floor walk-up in Queens. On May 27 of that year, the high was 71 degrees, but a glance at the forecast showed that temperatures would be in the mid-to-high 90s within three days. We Amazon Primed two window AC units with free two-day shipping. They showed up on May 29, and were even carried up to the fourth floor by a very nice UPS delivery guy. By the time the heat wave hit on May 30, we were hunkered down, dripping AC water down onto our neighbor's fire escape. If we hadn't been Prime members, we could have waited five to eight sweaty days for free shipping, schlepped two heavy AC units from a nearby P.C. Richard & Son, or paid $137 in shipping fees for Amazon to ship them before the heat wave hit.
Using two-day shipping (and, increasingly, one-day or even same-day shipping) and having it feel free (even if, of course, it's not) allows you to suddenly take care of a lot of what I consider "Oh, yeah" chores. This can be anything from buying a new trash can because your current one has a crack down the side or just buying an Ethernet cord — anything that would take you an extra hour to do on a weekday night suddenly becomes frictionless. This comes in handy whether you live in a dense urban area and don't want to haul an ironing board onto the C train, or if you live in a more suburban area with a car and just don't want to deal with the simmering madness of a Target at 7 p.m. on a weeknight.
And that's not getting into the other benefits.
What other benefits?
The biggest one, by far, is access to Prime Video, Amazon's version of Netflix. Amazon has poured a fair amount of money into original programming, and some of it is pretty great: Goliath, The Man in the High Castle, Bosch, Sneaky Pete, and the Emmy-winning Transparent are all good for rainy-day binges. Prime's back catalogue of non-original TV now arguably outpaces that of Netflix, from The Good Wife to The Americans to Catastrophe. And it seals the deal with the ability to rent movies for relatively cheap. Missed the beautiful Studio Ghibli film The Red Turtle while it was briefly in theaters? Rent it from Amazon Prime for $5.99.
There are also things like Prime Music, some cloud-storage options, limited access to Audible for audiobooks, and the occasional deep discount only available to Prime members (seen mainly, of course, on Prime Day).
This sounds an awful lot like Amazon is utilizing sunk-cost fallacy to make me buy more.
You're not entirely wrong! The reason Amazon is willing to subsidize all that free two-day shipping on anything is that the company knows people with a Prime membership tend to use Amazon more. The upfront nature of paying for a full year of Prime can induce a certain feeling that you need to "get your money's worth" — which can lead to impulse purchases of small items just because it's easier than going to the store and it's free to ship.
And it should be noted that Amazon isn't always the best deal — I highly recommend installing a plug-in like Wikibuy that'll automatically check for cheaper prices than what Amazon is offering (though those cheaper prices will almost always mean slower shipping).
It all comes down your shopping habits and how much you end up using it. Only order four things a year off Amazon? Prime is probably not gonna be a deal. Order dozens and dozens of things off Amazon every year? Prime will probably pay for itself.
What about the environmental impacts of ordering everything off Amazon?
There's a couple of ways to think about this. One, even if you decided to shop entirely locally, very little outside of a few perishable items is actually produced locally. That birthday present for your dad that you drive around town looking for? It was likely already flown in from somewhere else, and then you're going to pay to fly it back across the country in order to make it in time for his birthday. Amazon, thanks to economies of scale, ships only the things that people want from one of its many central warehouses. And, unlike your typical big-box store, it doesn't need to worry as much about keeping enough stock on hand (which inevitably leads to overstocking, which means you either buy a TV on deep discount at Best Buy when its time is up, or it gets shipped back to the manufacturer).
That said, Amazon can feel wasteful, even if you recycle every bit of cardboard you get. Getting your stuff in a cardboard box filled with plastic air padding, and then stabbing your way through clamshell packaging on a pair of $12 earbuds, doesn't seem like the most ecoconscious way to do things. Amazon has made some strides in doing things like shipping products in their own containers, or using "hassle-free" (i.e., less plastic clamshells) packaging, but it could — and should — do more.
Eh, this still sounds like an expensive subscription scam — like that Columbia House "12 albums for a penny" deal, except for toothpaste and TVs.
I get that. I was on the fence about Prime for a long time. For years, if I was shopping on Amazon, I'd just add a few extra items to my cart to get free shipping, and call it a day. But I've had Prime for nearly five years now, and I'd now loathe to give it up. Even my wife, initially very skeptical about signing up for Prime, has come around. We've been slowly renovating a house we bought last year — a project she's largely taken the lead on — and she's used Amazon to get a lot of the appliances for our upstairs kitchen. There was a better selection at better prices on Amazon than at our local big box, and she also got to avoid the hassle of being a woman in a hardware store and having salespeople assume she needed help understanding what a P-trap is. "Amazon doesn't care if I'm a man or a woman," as she put it. "It just wants my money."
My advice is to try the 30-day free-trial offer and see if it works for you. Set a reminder on your calendar of choice to remind you to cancel if you find that it's not for you. Students get an even better deal: a free six-month trial, and a 20 percent discount if they decide to take the leap. (Amazon Prime, for what it's worth, makes a pretty decent high-school graduation gift.)
New York Times columnist Farhad Manjoo recently asked readers in what order they'd give up the services of the five big tech companies: Alphabet (i.e., Google), Apple, Microsoft, Facebook, and Amazon. I like and use products from all five of these companies, and giving up Google products in particular would be difficult, but Amazon would be the last one to go for me. The appeal of looking at the forecast on Monday, realizing it's going to rain for three days straight starting Thursday, and having an umbrella waiting for me on Wednesday has become too much a part of my daily life for me to go back.
Heads-up: If you buy stuff through Amazon, New York Magazine may get a cut of the proceeds. That said, we don't recommend things we wouldn't buy — or haven't already bought — for ourselves.