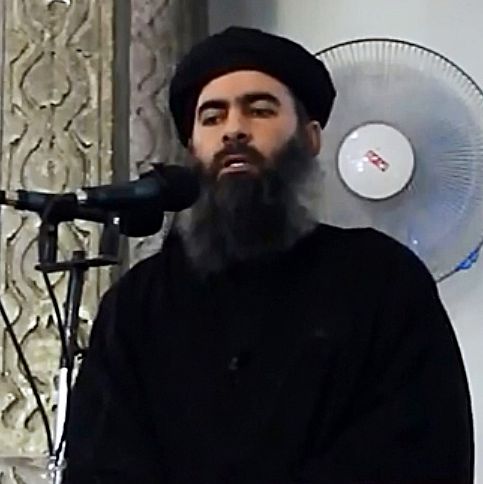 Al-Baghdadi in 2014.
Photo: Anadolu Agency/Getty Images
Russia claimed last month that an air strike in Syria may have taken out Abu Bakr al-Baghdadi, the elusive leader of the Islamic State. The May 28 strike on the outskirts of Raqqa — the capital of ISIS's so-called caliphate — allegedly targeted a meeting of ISIS military commanders. Al-Baghdadi, the Kremlin said, was among them.
The U.S. military and other analysts made clear their skepticism. The U.S. confirmed that Russia did conduct a strike in that area on that date, but as to al-Baghdadi's fate, a Pentagon spokesman said: "We have no information to corroborate those reports." The circumstances surrounding his alleged death were also questionable. It struck experts as unlikely that so many high-level ISIS leaders would all meet together in the middle of a military hot zone, making themselves vulnerable to a targeted strike. And, of course, al-Baghdadi has a reputation for getting "killed" or critically injured, over and over again.
And now there's a new report. On Tuesday, the Syrian Observatory for Human Rights, an independent and well-regarded agency that monitors the civil war in Syria from London, claimed that al-Bahgdadi's had been killed. The group said it received "reliable information from a first-line commander of the 'Islamic State' organization and second-line commanders of the organization, descended from the eastern countryside of Deir Ezzor" who confirmed that Abu Bakr al-Baghdadi is dead. Deir Ezzor is a region in eastern Syrian near the Iraqi border where ISIS is under siege. Those sources indicated that al-Baghdadi had, within the last three months, been in a village in that area. But it was unclear, based on the Observatory's information, when or how, exactly, al-Baghdadi may have died.
Al-Baghdadi's latest rumored death still hasn't been confirmed by U.S. officials, but it appears the Pentagon is giving more respect to this report. "I really don't know," Army Lieutenant General Stephen Townsend, who commands the U.S.-led campaign against ISIS in Iraq and Syria, said. "I don't have reason to believe that he's alive. I don't have proof of life."
A spokesman for the U.S.-led coalition also told reporters that while it couldn't confirm the Syrian Observatory's report, they "hope it was true." He also warned: "We strongly advise ISIS to implement a strong line of succession, it will be needed."
Yet ISIS has not made any announcement about its leader, though as experts have pointed out, it might not be eager to affirm such a huge symbolic defeat.
Chatter on the ISIS channels appear to be borrowing from the playbook of the American president, calling any such reports of al-Baghdadi death a brand of "fake news:"
But al-Baghdadi's possible death probably matters little in the larger battle against ISIS. Little is known about the "ghostlike" commander, an Iraqi who first dabbled with Al Qaeda there before busting onto the scene in 2014 to declare ISIS a caliphate from the pulpit of the al-Nuri Grand Mosque in Mosul (which was recently destroyed by ISIS fighters). He hasn't been heard from since November, when he allegedly issued an audio recording. In the months since, the U.S. has managed to knock out many of ISIS's top operatives. It's also unclear what, if any, strategic role al-Baghdadi has had in the battles for Mosul and Raqqa. But the ideology he espouses is still thriving — even as ISIS has suffered territorial losses and battlefield defeats, it continues to inspire adherents, and has launched attacks around the world in recent weeks. Al-Baghdadi may be dead, or he may be alive, but either way, a replacement is waiting.