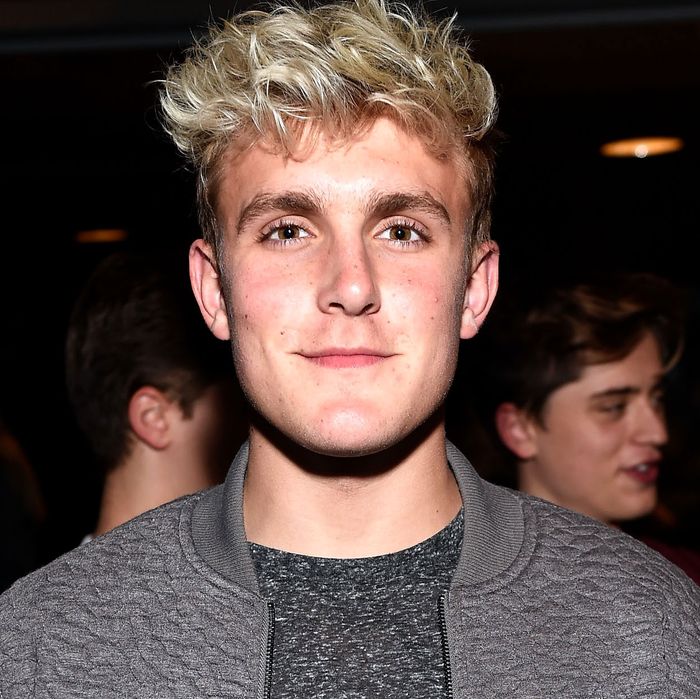 Jake Paul first made a name for himself on Vine, later nabbing — and losing — a role on a Disney Channel show for kids.
Photo: Matt Winkelmeyer/Getty Images for E!
Disney Channel has decided it's done with Jake Paul. Over the weekend, the company announced that the 20-year-old social-media star, and sometimes actor, would be leaving his role on Disney's Bizaardvark. Paul's mid-season departure — as in, Disney decided it was best to get Paul off the show as quickly as possible — follows public complaints from Paul's West Hollywood neighbors about the young star being, quite possibly, the world's worst neighbor, drawing massive crowds of screaming fans and setting a bonfire in his empty swimming pool.
From Disney:
We've mutually agreed that Jake Paul will leave his role on the Disney Channel series 'Bizaardvark.' On behalf of the production company, the cast and crew, we thank Jake for his good work on the TV series for the past 18 months and extend our best wishes to him.
Paul also commented on his departure. He posted some thoughts, in a Notes-app screenshot, on Twitter, saying he is moving on to focus on business ventures and "more adult acting roles."
Disney's or, um, Disney and Paul's "mutual decision" follows a news report from KTLA 5 in which an anchor attempted to interview Paul about his recent unneighborly behavior in a rental unit outside of Los Angeles. In the interview, Paul climbed the news channel's van, said there was essentially nothing anybody could do to stop him, and shouted "what are thoooooose" at the anchor's shoes — an homage to an infamous Vine — before fleeing the scene. Earlier this spring, Paul's ex-girlfriend, fellow social-media star Alissa Violet, posted a video claiming Paul had repeatedly cheated on her and had been emotionally abusive during their relationship. Paul never responded to the allegations, though his brother, Logan, did name-check her one time, ostensibly to make his brother jealous, in a rapping diss track — don't watch it, it's not worth it.