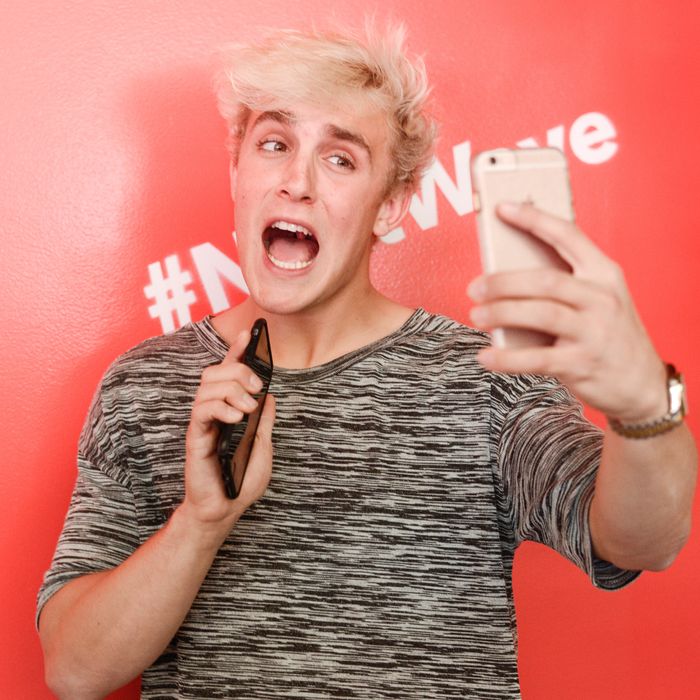 Jake Paul.
Photo: Michael Bezjian/WireImage
Vine star turned YouTube star turned Disney Channel star turned ex–Disney Channel star Jake Paul is many things. Humble does not appear to be one of them. The 20-year-old was recently let go from his role on Disney Channel's Bizaardvark following a news report that his neighbors in Los Angeles are threatening a class-action nuisance lawsuit against him. Just days after Disney announced Paul and the company had decided to mutually part ways — which, sure — GQ published a piece titled "The New Rules for Making It in Hollywood." Paul is prominently featured in it, and timing, as they say, is everything.
Paul told GQ:
Even Disney — off the record, but on the record — knows that I have the power. They love me because of that. I don't act like it. I'm not walking around all cocky, but the tables have turned.
Paul also weighed in on what he wants to do next, saying he'd love to be a villain or a hero in an action movie. GQ also detailed a meeting between Paul, his agent, and a Hollywood producer, where the trio discussed a potential role for Paul in a new movie. "Maybe similarly to Get Out, where, like, the message of the whole thing is like, basically, that racism is terrible," Paul said during the meeting.
There you have it, folks. "Racism is terrible" and the guy who pissed off his neighbors by lighting a giant fire in his empty swimming pool is on it.