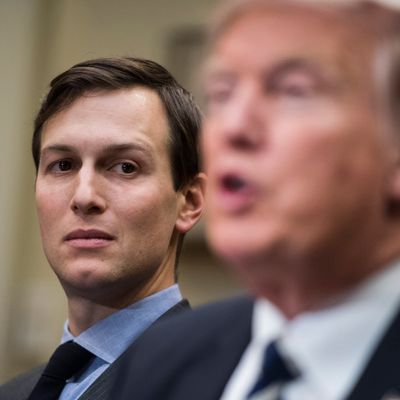 Who needs enemies when you have a son-in-law like this?
Photo: Jabin Botsford/The Washington Post/Getty Images
In the first few months of the Trump administration, both the president and his political opponents placed much hope on Jared Kushner, a 36-year-old real-estate heir with no experience relevant to the job of senior White House adviser. The left hoped that Kushner and his wife, Ivanka Trump, would act as voices of reason, fighting against climate change, attacks on LGBT rights, and Steve Bannon's general inclination to "blow things up." Meanwhile, President Trump tasked his son-in-law with just about every thorny issue facing his administration, from rewriting U.S. trade agreements to solving the opioid epidemic to brokering peace in the Middle East.
Kushner has had a few successes (like possibly saving NAFTA) and several major failures (such as failing to prevent Trump from ditching the Paris climate accords and bungling a trip to Jerusalem). But for the Trump administration, he's proven to be a disastrous hire largely due to his inept handling of the Russia scandal.
Back in May, Kushner was reportedly among those urging President Trump to fire FBI director James Comey. That sparked a massive, days-long crisis that culminated in the appointment of a special prosecutor to investigate Russia's election meddling and the Trump camp's potential involvement. The New York Times reported that while White House staffers ultimately decided to respond with a statement saying they welcomed the investigation by Special Counsel Robert Mueller, Kushner "was one of the few dissenting voices, urging the president to counterattack."
Later that month, Kushner was at the center of another episode in the ongoing Russia scandal when reports emerged that he tried to establish a secret backchannel between the Trump team and the Russian government in December. Several weeks later, the Washington Post reported that Mueller was looking into Kushner's "finances and business dealings."
At this point, Kushner can't do much about his meetings with Russians during the campaign, or his potentially shady business dealings. However, he's consistently tackled Russia-related issues in a manner that's created unnecessary problems for his family members and fellow White House staffers.
While Donald Trump Jr. is currently at the eye of the "Category 5 hurricane" surrounding the White House, his emails about a meeting with a Kremlin-connected lawyer, which Kushner attended, are apparently coming to light now because of his brother-in-law.
When Kushner initially filed his application for a security clearance in January, the foreign contacts section was blank. His lawyers said this was an accident and in May they filed a revised form listing more than 100 meetings with officials from over 20 countries — but not the meeting with the Russian lawyer, Natalia Veselnitskaya. The Times reported that the emails from Don Jr. "were discovered in recent weeks by Mr. Kushner's legal team as it reviewed documents." The SF-86 form Kushner filed with the FBI was then updated for a third time to disclose the meeting.
CNN fleshed out the timeline on Thursday, reporting that Kushner's lawyers provided the amended SF-86 on June 21. A few days later, Kushner's team ignored a reporter's question about the filing:
On June 26, CNN asked a White House spokesman assigned to Kushner about the additional meeting on the amended security clearance form, including that it was organized by Donald Trump Jr.




But Kushner's team did not respond. On June 28, Jamie Gorelick, Kushner's lawyer handling the issue, sent a letter to the FBI to complain about what she believed was an improper leak, according to a person close to the matter.
A source close to Kushner said his team discussed whether they should just go public with the information, but Kushner "told his lawyers he planned to sit down with the president to discuss the meeting and the email that had been discovered." So, if true, Kushner's instinct was to get the president more deeply involved in the handling of evidence that may be construed as proof that his campaign colluded with Russia.
The Times reported that Trump's attorney for Russia-related matters, Marc Kasowitz, is so fed up with Kushner's behavior that he's considered resigning, and that sounds like the kind of thing he's talking about:
Mr. Kasowitz and his colleagues have complained that Mr. Kushner has been whispering in the president's ear about the Russia investigations and stories while keeping the lawyers out of the loop, according to another person familiar with the legal team. The president's lawyers view Mr. Kushner as an obstacle and freelancer more concerned about protecting himself than his father-in-law, the person said.
It's not clear if Kushner actually had a chat with his father-in-law about the meeting, but if so, the president has been lying about it. Trump has repeatedly said he only learned of the emails and the meeting "a couple of days ago."
Yahoo reported on Thursday that attorneys representing the president and the Trump Organization were informed of the emails right after they were discovered by Kushner's legal team. It's possible that the attorneys didn't update the president, but Richard Painter, the former chief ethics lawyer for President George W. Bush, said he found that idea "weird" and "unbelievable." "You have a professional obligation to inform the client about information that he needs to make informed decisions," he said.
Even if Trump wasn't personally informed, Kushner and a number of other people in his orbit were aware of the issue for weeks — yet the White House appeared caught off guard when the Times broke the story on July 8. Trump Jr.'s initial response, which required multiple follow-ups, was reportedly drafted by top Trump advisers on Air Force One as they returned from a trip to Europe.
White House staffers who didn't inherit billions have been hesitant to get involved in Russia-related matters because they can't afford to hire a high-priced lawyer should they be pulled into the Mueller probe. But CNN noted on Thursday that those aides may have exposed themselves to special counsel scrutiny when they scrambled to craft Trump Jr.'s response.
Nevertheless, Kushner is reportedly pushing White House staffers to get even more involved and mount a more vigorous defense. According to Politico, his argument is that the meeting impacts Trump's presidency, so the White House should deal with it. But some people on the communication team, including Press Secretary Sean Spicer, say the issue should be left to the lawyers who were hired to handle the scandal.
Sources said Kushner was angry that the White House communications team wasn't immediately putting surrogates on TV, issuing talking points, and calling up cable news outlets to complain about their chyrons.
"Jared wanted to get surrogates, he wanted an op-ed in the [Wall Street] Journal and the [New York] Times, and we said, 'Wait, we have to talk through how that will play out. Who is going to say it, who is going to put their name on the op-ed and what baggage do they have?'" said an outside adviser.
Some of the turmoil, CNN reports, stems from the feeling among White House aides that the PR strategy is designed to protect Kushner, the only person mentioned in the emails who works in the White House. "Who do you have to protect? You have to protect the guy who filled out the form saying I never took this meeting," one source said.
But according to Axios, Kushner's view is that the Trump administration can squash the whole controversy over Trump Jr.'s emails with a bit of good PR — and peace in the Middle East.
The view in Kushner's orbit is that the brutal new revelations are more P.R. problems than legal problems. And if he makes progress with his Middle East peace efforts, perceptions would be very different.
So far he's been wrong about firing Comey, ignoring legal advice, failing to prepare a coherent response, and creating new questions about who knew what, and when they knew it. But hey, he's Jared Kushner. If he can't make this Russia scandal blow over, nobody can.