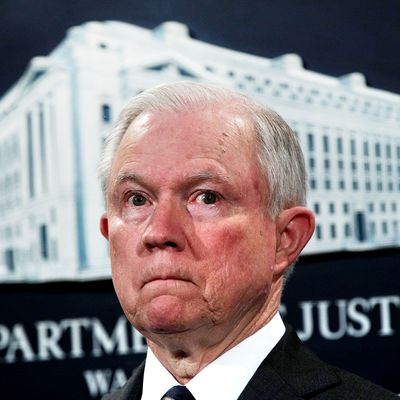 He likes your car.
Photo: Alex Wong/Getty Images
Attorney General Jeff Sessions has brought back a practice that lowers the legal bar in many places for police to take money and property from people, regardless of whether they've committed a crime. The change is part of a new Justice Department policy on civil-asset forfeiture that was announced Wednesday.
The controversial practice, outlawed by the Obama administration in 2015, has plenty of detractors on both sides of the political divide. Critics see it as an unconstitutional policy allowing for outright theft by law enforcement, which isn't even required to have evidence of a crime before seizing assets. Police will often keep the property, or sell it and keep the money.
"Funds being used to take lives are now being used to save lives," Sessions said in an announcement Wednesday.
He added that civil-asset forfeiture is "a key tool that helps law enforcement help defund organized crime, prevents new crime from committed and weakens the criminals and cartels."
The change announced Wednesday largely concerns a practice called "adoption," which is when local law enforcement shares seized assets with the federal government. Two years ago, then–Attorney General Eric Holder barred adoption, which was often used as a way around state laws requiring more justification for forfeitures. Sessions's change allows local law enforcement once again to work with the federal government to skirt state laws and to take more assets from Americans without having to justify it.
Criticism from lawmakers has been swift and most of it is coming from the right.