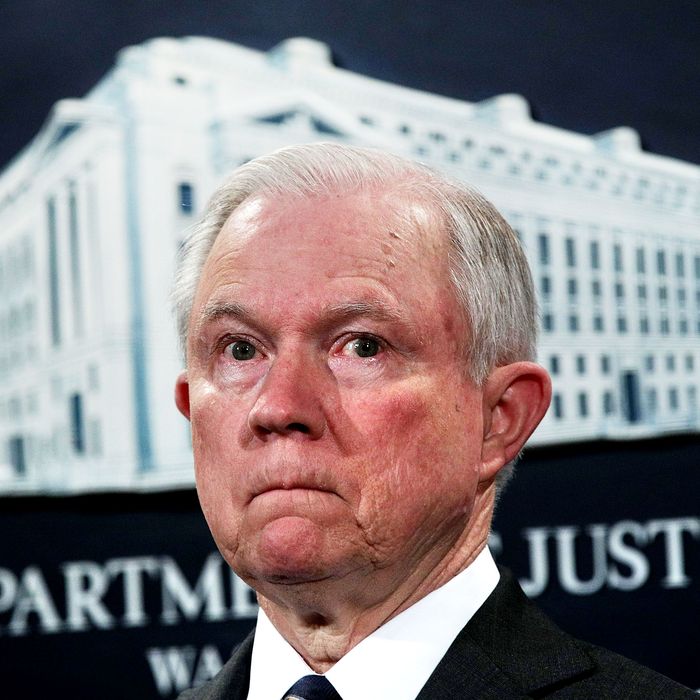 Photo: Alex Wong/Getty Images
In a blockbuster story, the Washington Post reports that Sergey Kislyak, the Russian ambassador to the United States, told his superiors that he had detailed conversations with Attorney General Jeff Sessions about Russian policy during the run-up to the 2016 election. If true, it means that Jeff Sessions directly perjured himself during his confirmation hearings in January, then repeatedly lied when he tried to explain why he hadn't.
The Post reports that Kislyak's comments to his Russian bosses were intercepted by U.S. spy agencies. An anonymous former official told the Post that Sessions and Kislyak had "substantive" discussions on United States–Russia relations and then-candidate Trump's positions on the issues facing the countries' relationship.
The account is not corroborated by other sources, and it is possible that Kislyak was misrepresenting his conversations with Sessions — though the Post notes that Kislyak "has a reputation for accurately relaying details about his interactions with officials in Washington."
Under oath in his hearings to become attorney general back in January, Sessions said he hadn't had any contact with Russian officials at all over the course of the previous year — a claim he had to retract when the Post reported in March on the existence of two meetings with Kislyak in 2016. Sessions, who was one of Trump's earliest and most influential supporters, made the shaky assertion that the meetings did not involve U.S.-Russia policy, and that he was only involved in his capacity as a senator.
Nevertheless, the revelation of the contact with Kislyak led Sessions to recuse himself from the ongoing probe involving President Trump and Russian interference in the 2016 election, clearing the path for special prosecutor Robert Mueller to take over. President Trump was furious at Sessions for bowing out of the investigation, and remains so; he told the New York Times on Wednesday that he would not have appointed Sessions as attorney general if he had anticipated the recusal.
Sessions is already in the presidential doghouse. As the Mueller investigation swirls around Sessions, the disclosure that he lied even more than people thought about Russia would seem to bode ill for his job security — which has led to speculation as to who fed the Post the damning information:
It could be a very exciting weekend!