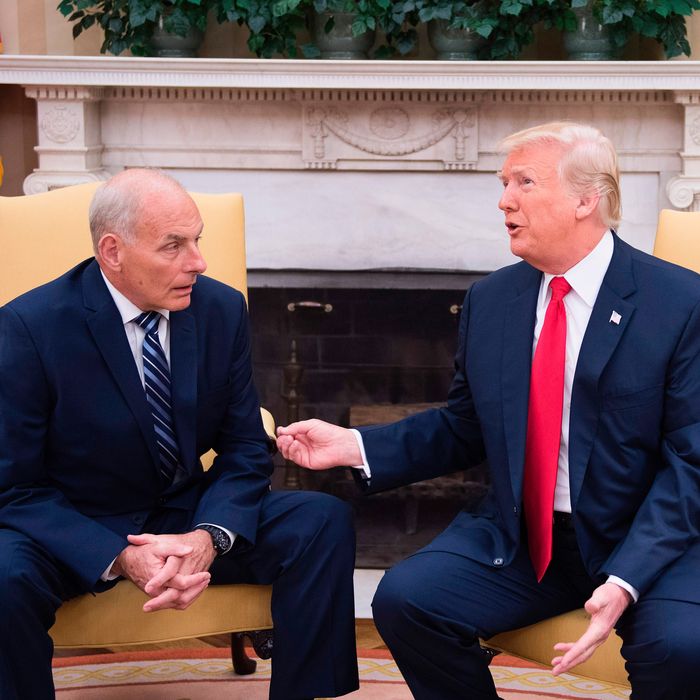 Trump with newly sworn-in White House Chief of Staff John Kelly.
Photo: JIM WATSON/AFP/Getty Images
President Trump on Monday morning swore in his new chief of staff, General John Kelly, declaring that the former head of the Department of Homeland Security will do a "spectacular job" in his new role.
The four-star general is expected to bring order to the notoriously chaotic White House; at least, that's what his supporters hope. Among that cohort are Trump's daughter Ivanka and son-in-law, Jared Kushner. According to Bloomberg, the White House power couple endorsed Kelly "after losing confidence" in outgoing Chief of Staff Reince Priebus. With "authority over the president's staff"—including Jared, Ivanka and Steve Bannon, all of whom now report to him—Kelly will attempt to limit the unfettered access to the Oval Office previously enjoyed by anyone in a red MAGA hat.
Trump's daughter and son-in-law have committed to work with Kelly to create more order around the president, a White House official said. While it's unlikely that the walk-in privileges of Trump's children will be curtailed, other senior officials may lose their direct line to the president.
The desire to clean up the mess in the White House isn't just coming from those who've been mired in it. Kelly himself has reportedly been bothered by it too. Politico reports:
Kelly has nonetheless expressed frustration about the White House to friends and associates, complaining about the slow pace of hiring and bristling at having to answer to lower-level aides, according to one person who has spoken to him and another person familiar with the tension.
For his part, Trump is trying to downplay the widely held belief that the White House is in a constant state of disarray, tweeting that there is no chaos and attempting to prove it by citing events taking place outside of the White House.
While it's clear what Kelly will attempt to do in the White House, there's no telling how successful he will be. Kelly "thrives on a rigorous organizational style and methodological approach to making decisions," Politico says, and that couldn't be more at odds with his new boss. And while he is already aligned with both the Ivanka/Jared camp of the White House as well as nationalist Trump advisers Steve Bannon and Stephen Miller, the recent appointment of Communications Director Anthony Scaramucci seems like it could be a problem.
The shit-talking hedge-funder, whose very public spat with the previous chief of staff, Reince Priebus, came days before his firing, is reportedly insistent that he report directly to the president. Kelly, meanwhile, is said to have "full authority" over White House staff. If and when these two clash, there are going to be fireworks.