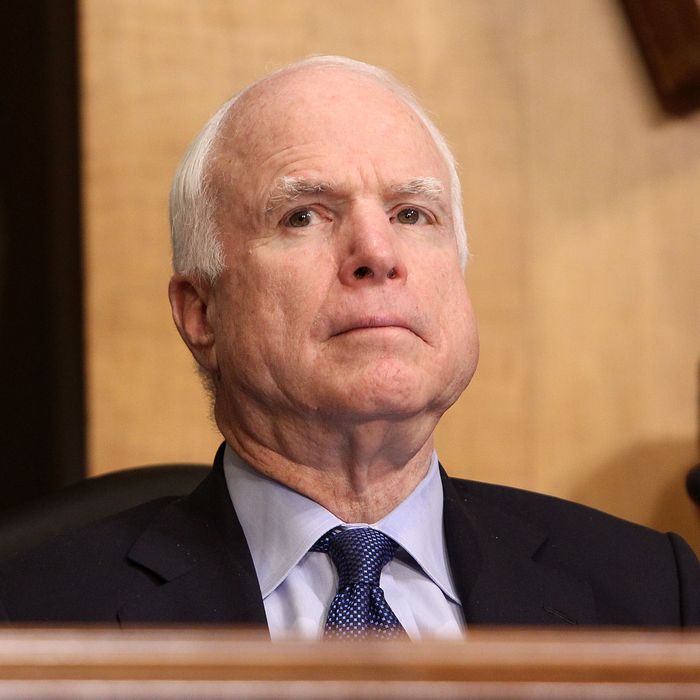 Photo: Paul Morigi/WireImage
Senator John McCain has been diagnosed with a brain tumor, his office said Wednesday.
Last Friday, the 80-year-old Arizona senator had a blood clot removed from above his left eye at the Mayo Clinic Hospital in Phoenix. His doctors said tests revealed "a primary brain tumor known as a glioblastoma."
"The senator's doctors say he is recovering from his surgery 'amazingly well' and his underlying health is excellent," the hospital said in a statement. McCain and his family are looking into treatment options, which may include chemotherapy and radiation.
Senator McCain's office said he's "in good spirits as he continues to recover at home with his family in Arizona. He is grateful to the doctors and staff at Mayo Clinic for their outstanding care, and is confident that any future treatment will be effective."
The American Brain Tumor Association says glioblastomas are "usually highly malignant," spread quickly, and are difficult to treat. Senator Ted Kennedy was diagnosed with the same type of tumor in 2008 and lived for another 15 months.
There's been no word on if or when McCain will return to the Senate. Politico reports that Lindsey Graham, McCain's closest friend in the Senate, broke the news to the Republicans meeting tonight in an effort to advance the GOP's Obamacare repeal effort. Senator James Lankford then led a prayer for McCain's recovery.
"We've already heard from him and he wants to get back. He's always thinking about the Senate and getting things done," said Senator John Hoeven. "We prayed. It was very emotional. Almost kind of stunned disbelief for a minute."
The senator's daughter, Meghan McCain, released this statement:
People from across the political spectrum, including several of McCain's former rivals, wished him well and spoke of his strength and heroism:
McCain later responded and thanked his fellow politicians for their support, promising that he'd be back to work soon:
This post has been updated throughout.