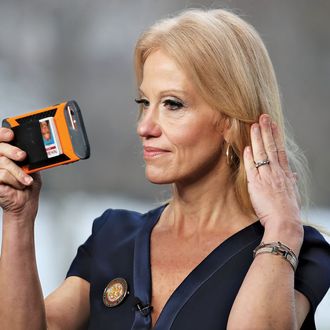 Photo: Mark Wilson/Getty Images
Kellyanne Conway's definition of feminism is, well, let's say "alternative." She told crowds at CPAC earlier this year, "I look at myself as a product of my choices, not a victim of my circumstances, and that's really to me what conservative feminism is all about." (Which prompted dictionary Twitter to promptly, and aggressively, shade her.) Over the weekend, Fox News tweeted a quote card with a picture of Conway and another quote from her about "the irony of 'modern feminism.'" "Do you agree with @KellyannePolls?" Fox News asked on Twitter. To which Kellyanne herself responded by quote tweeting the image with the caption "100%." Love to see women supporting other women. Er, something like that!
At the very least, this is still a better look for the GOP than that time ex–press secretary Sean Spicer quote tweeted "You nailed it" with a video from the Onion which said his job was to spread "robust misinformation." But only a slightly better look.