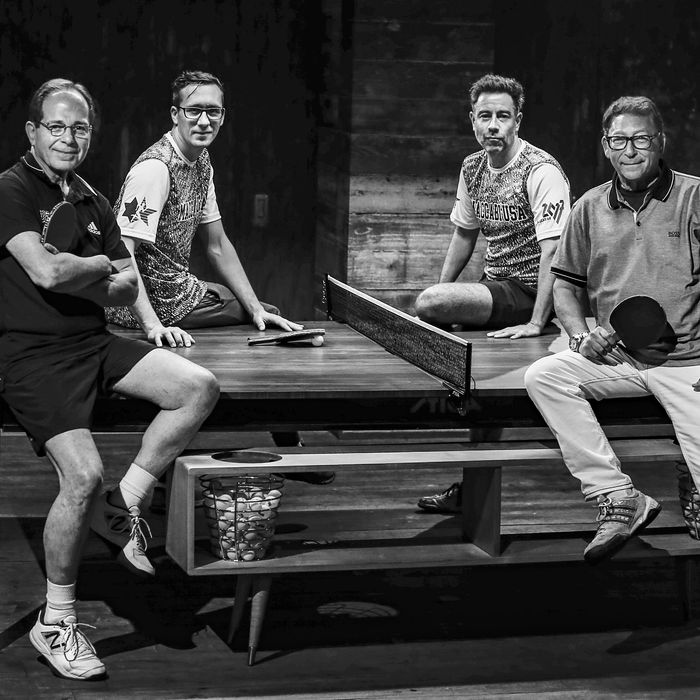 The USA ping-pong team for the Maccabiah Games.
Photo: Andres Kudacki
On the Fourth of July, while most Americans were patriotically barbecuing and setting off fireworks, Larry Summers — the former economic adviser to two presidents, the president emeritus of Harvard University, and one of the country's most well-known economists — was at Newark Airport waiting to board a flight to Tel Aviv, on his way to compete as part of the USA ping-pong team in the Maccabiah Games, colloquially known as the Jewish Olympics. The team is divided up into three age divisions — junior (born 1999 to 2002), open (aged 18 to 39), and masters (40 and over) — and he was a member of the latter. "I would describe myself not as nervous but as a bit teed up," the economist said. "This is the closest I think I'll ever get to being in an international sporting competition."
Held every four years, the Maccabiah Games attract 10,000 athletes from all over the world. "There are literally thousands of athletes, all Jewish, from countries where I didn't even know Jews existed, playing in sports I didn't even know were played at this thing," said Zara Chadowitz, a 30-something senior project manager for Amazon who plays in the open division. "We have chess and equestrian, there are people flying in horses for 20 grand."
The pageantry mirrors the real Olympics, with an opening and closing ceremony and an "athletes' village" (a cluster of hotels). This year there are competitors in 43 sports from 80 countries, more than in past games.
Adidas is a key sponsor. Some teams contain professional athletes or people who have competed in the real Olympics. Others, like the USA ping-pong team, consists of a hodgepodge of the semi-famous, elderly, mostly New York–based Jew.
The ping-pong team was assembled by Joel Roodyn, an Englishman who works in a New York hedge fund and who has been participating in the Maccabiah Games since he was a teenager. Roodyn was first tapped to select the U.S. team 12 years ago and personally drafted this year's recruits, choosing from the clubby Northeastern ping-pong-enthusiast circuits. Athletes in every age group, including Summers, had to prove themselves through trials and assessments before they were tapped.
Since January, Summers has been working on his forehand smash, heavy top spin, and even the backhand flip, and exercising so much that his teammates have commented that he looks skinnier now when he appears on television. Still, he doesn't know how much real progress he's made. "I suspect I am not going to retain the same standing in the pantheon of ping-pong that I have at least aspired to in the pantheon of economics," he said. But he was still excited to go: "I am getting a particular kick out of it."
The economist has come down to New York for the occasional practice, but he wouldn't meet the full team until he arrived in Israel. Like him, many are titans of their industries. In total, there are nine players. (There were ten when billionaire Len Blavatnik was planning on heading to the tournament. He had to drop out last minute.) In New York City, footwear mogul Stuart Weitzman has been putting in hundreds of hours at Spin, the trendy downtown ping-pong club founded by Susan Sarandon. "This place has become my home," he said at a practice a week before the competition, accompanied by his close friend and teammate Steve Horowitz, a renowned cardiologist in Westchester. "I want to win. I'm a competitive person. But if I don't, there is a loser tournament. I love that. They call it the consolation round."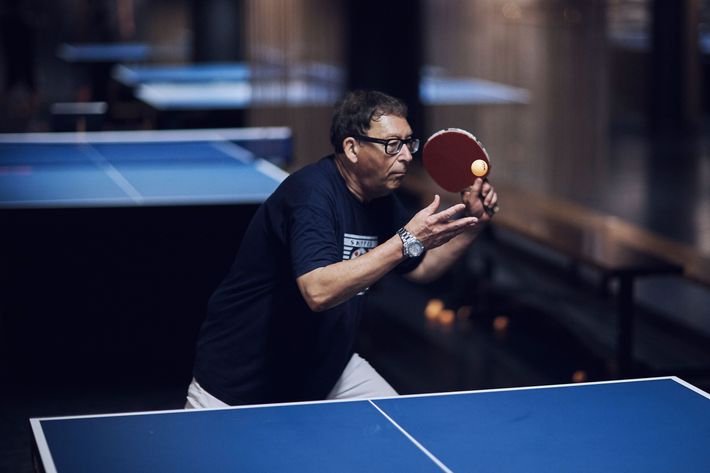 Weitzman and Horowitz arrived at the ping-pong club in long shorts and a polo shirt (Horowitz) and a T-shirt that advertises resorts in St. Tropez (Weitzman). In the dimly lit room, with hip-hop music blaring in the background, they hit the tables, giggling occasionally when they missed, and occasionally glancing at the younger adults playing aggressively on a nearby table. Mostly they joked about their age and health. "I need him," said Weitzman, pointing to his buddy. "I'm in the over-70 range. What if I go into cardiac arrest?"
The fact that this year the team includes a group of successful people is not lost on anyone. "I think there is an interest in who we are as people," said Horowitz.
"If you think about the people who are on the team, every one did something outstanding in their field. There is this guy from Maryland, Stuart Goldberg, who speaks 15 languages. He's the most senior language professor in the United States," said Weitzman. "Why did we end up on this team? It was a coincidence."
This is Weitzman's second time competing in the games. The last go-round, he spent time drinking and socializing with some of the other athletes after the matches. He bonded with the Cuban ping-pong team when he helped them pay for a taxi to the tournament when the bus was late. "It would have cost them a month of wages," he said. "Of course, I got knocked out of the consolation round by one of the boys."
Summers will tell you that what he loves most about the sport is you don't have to be particularly athletic. It doesn't require you to run fast or lift hard. It is possible to play the game without really sweating. The skill most valuable in this game is an exceptional mental capacity. "It puts emphasis on quick wits and quickness of response," he said. "A lot of success involves being able to read spins and the like. I think it's fun to play."
Despite their collective quick wits, the U.S. team members admitted they don't stand much of a chance of placing at the Maccabiah Games. But that isn't the point, said Summers. "I suspect I'm going to be one of those for whom the Olympic spirit focuses on participating rather than winning … I don't think I'll be giving up my day job."