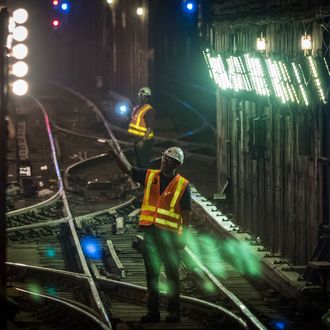 More of this.
Photo: Anthony DelMundo/NY Daily News via Getty Images
New York City's subway system operates 24 hours a day, seven days a week — but riders should brace for more overnight shutdowns along certain lines. MTA Chairman Joe Lhota — who last week outlined an $800 million rescue plan for the subways — warned of increased shutdowns, as the authority makes a push to undertake much-needed repairs on the beleaguered system. "You are going to see more of that going on. New Yorkers have gotten used to it," Lhota explained Sunday to John Catsimatidis on his radio show. "And that's when we can get a lot of intense work done, just take all the resources and plow it into one area, and then move down to the next station."
Specifically, Lhota is eyeing an expansion of the MTA Fastrack program, where select lines go completely offline between 11 p.m. and 5 a.m., for a period, to facilitate more efficient repairs, as crews can work without interruption. Lhota described any overnight closures as "temporary disruptions," which is code for: don't fight it and just take an Uber.