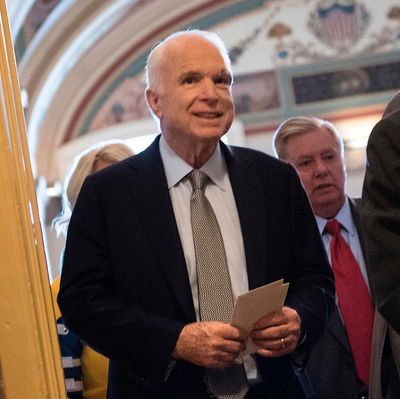 History will certainly recall that McCain only
enabled
the passage of some horrible Obamacare replacement.
Photo: BRENDAN SMIALOWSKI/AFP/Getty Images
Following his surgery and brain cancer diagnosis, Senator John McCain made a triumphant return to Washington, D.C. on Tuesday and delivered a rebuke to everyone who questioned whether he's truly a "maverick." In two votes on repealing Obamacare, McCain showed he won't play by the rules — even if the rules are just McCain's own statements about his goals and principles.
After a dramatic delay in voting, on Tuesday afternoon McCain walked out on the Senate floor and cast his vote to begin debate on repealing the Affordable Care Act — the first step in Majority Leader Mitch McConnell's outrageous effort to ram through legislation — any legislation — that guts Obamacare by the end of the week.
Just one week earlier, McCain had trashed the Senate bill, the Better Care Reconciliation Act, saying Congress must "return to regular order" and find a bipartisan health-care fix. Immediately after voting for the motion to proceed, McCain took to the Senate floor to reiterate that point in a passionate, Sorkin-esque speech.
"Let's trust each other. Let's return to regular order," McCain said, after singing the praises of the Senate's cherished rules and traditions. "We've been spinning our wheels on too many important issues because we keep trying to find a way to win without help from across the aisle. That's an approach that's been employed by both sides, mandating legislation from the top down, without any support from the other side, with all the parliamentary maneuvers that requires."
Then McCain turned to fixing the health-care system, saying Republicans have yet to find the solution and "I'm not sure we will." He criticized the secretive process McConnell used to craft BCRA, and said it probably shouldn't pass:
I voted for the motion to proceed to allow debate to continue and amendments to be offered. I will not vote for the bill as it is today. It's a shell of a bill right now. We all know that. I have changes urged by my state's governor that will have to be included to earn my support for final passage of any bill. I know many of you will have to see the bill changed substantially for you to support it.




We've tried to do this by coming up with a proposal behind closed doors in consultation with the administration, then springing it on skeptical members, trying to convince them it's better than nothing, asking us to swallow our doubts and force it past a unified opposition. I don't think that is going to work in the end. And it probably shouldn't.
McCain didn't explain why he had just cast the deciding vote to let McConnell forge ahead with this reprehensible and ill-fated process. But later in the speech he suggested that he wants the Senate to return to normalcy after taking a stab at destroying Obamacare the quick and dirty way. "Why don't we try the old way of legislating in the Senate, the way our rules and customs encourage us to act," he said. "If this process ends in failure, which seem likely, then let's return to regular order.
This sparked confusion and derision from those opposed to seeing millions lose their health coverage. But McCain was crystal clear on one point: "I. Will. Not. Vote. For. This. Bill. As. It. Is. Today," he said, giving each word emphasis.
Six hours later, McCain voted for the bill.
The late-night vote already appeared doomed, and the Arizona senator's vote wasn't decisive; nine Republicans from across the political spectrum voted against it. So why go back on your vow so quickly? "I just thought it would be good to move the process forward, and then we'll see what happens later on," McCain told BuzzFeed.
There was a new wave of fury over McCain cutting short his own recovery just to take other Americans' health coverage away — and brazenly lying about what he intended to do.
A handful of experts on the Senate's arcane procedures offered up a possible defense: technically, Tuesday night's vote wasn't to pass BCRA, it was a procedural vote on whether a version of BCRA with amendments from Ted Cruz and Rob Portman satisfies budget rules, and could therefore be passed at a later date with only 50 votes.
In one sense, no senator has voted for or against BCRA "as it is today." Furthermore, BuzzFeed noted that it's not entirely clear which version of the bill McCain was promising to vote against: "the leadership bill itself, the amended leadership bill with both the Cruz and Portman proposals attached or another of the various health care plans floating around the Capitol."
But the reality is that everyone understood Tuesday night's procedural vote was actually about BCRA:
On MSNBC, Senator Al Franken suggested that McCain's fellow senators were equally confused by his vote. "Technically, it was a procedural vote to then go to the issue, and I suppose it's conceivable John McCain would have voted against the actual bill once you got to that vote," said host Lawrence O'Donnell. "But he certainly is confusing people."
"Well, yeah," Franken answered. "I think someone giving that speech would have normally voted against this and gone to regular order."
Even if we concede that McCain hasn't exactly broken his promise not to "vote for the bill as it is today," he still squandered two opportunities to stop McConnell's irresponsible drive to destroy Obamacare by any means necessary. As the Washington Post explained:
… McCain's vote on Tuesday helped enable the broken process on health care that he came to the floor to decry. It allows McConnell to continue to circumvent the committee work and bipartisan negotiations McCain said represent the best of the Senate. A no vote would have forced leaders back to the drawing board, possibly into a bipartisan negotiation, but now, they will barrel ahead, possibly for weeks or months, on the Republican-only effort.
Hopefully, someday, some renegade Republican will be bold enough make McCain's dream of a properly functioning Senate a reality.