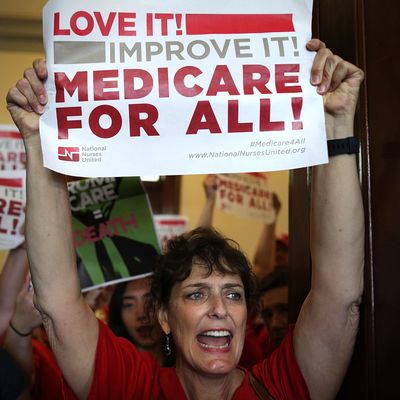 Medicare is very popular. But its many cost-sharing features and coverage limitations might make it a less than ideal model for universal, single-payer health care.
Photo: Alex Wong/Getty Images
One of the much-discussed merits of a single-payer health-care system is its simplicity as compared to a complex public-private hybrid like Obamacare. Proponents often like to call single payer "Medicare for all," building on the familiarity and popularity of the country's chief retirement-health-care program.
But before getting serious about enacting single-payer legislation nationally or in the states, proponents of "Medicare for all" should make it clear not to take the slogan too literally. Including all Americans in the Medicare program as it exists today probably would not work, and might not even be all that popular in practice.
For one thing, Medicare is by design an "acute care" program. It does not cover long-term hospital stays or nursing-home care, and excludes some routine care (e.g., dental and vision care). Presumably a single-payer program designed to replace all or most private insurance would be more comprehensive than Medicare.
Perhaps more importantly, from a political point of view, Medicare is neither free nor easy for beneficiaries.
Medicare Parts A (which covers medically necessary hospital services), B (which covers doctors' fees and some hospital outpatient services), and D (prescription drug benefits) all have sizable deductibles and co-payments. That is why most seniors who can afford it buy supplemental insurance to cover such "cost-sharing measures" (poorer or disabled seniors who also qualify for Medicaid get fuller coverage through that program). Parts B and D also charge monthly premiums, which most seniors pay through automatic deductions from their Social Security checks. Extending this to people who don't qualify for Medicaid, don't want to pay for a "Medigap" policy, or don't receive Social Security benefits would require a very different structure. As is, "Medicare for all" would certainly conflict with the general argument that single-payer heath care gets rid of all those nasty out-of-pocket expenses.
The more you look at it, the more "Medicare for all" is, well, misleading. And it is politically perilous to mislead people about sweeping new health-care programs, as Congress learned in 1988 with the Medicare Catastrophic Coverage Act of 1988, a major bipartisan initiative that had to be repealed the next year when seniors figured out it duplicated the Medigap coverage many already had instead of addressing long-term-care needs.
The scant resemblance of most single-payer proposals to the actual Medicare program is just one problem proponents have in making themselves clear. They also need to agree on what single payer itself means, other than something sorta kinda like Medicare except when it's not. Would single payer literally outlaw private insurance, allow it on the margins, or indeed deploy private insurance companies within a framework of government-guaranteed care (as happens now with Medicare Advantage plans or Medicaid managed-care systems)? The many available variations have all sorts of pros and cons. But pretending it's all very simple obscures these options.
Maybe it's time for single-payer advocates to place less emphasis on alleged simplicity, and more on health care as a right that Americans should enjoy universally and equally. It might avoid some hard feelings down the road.