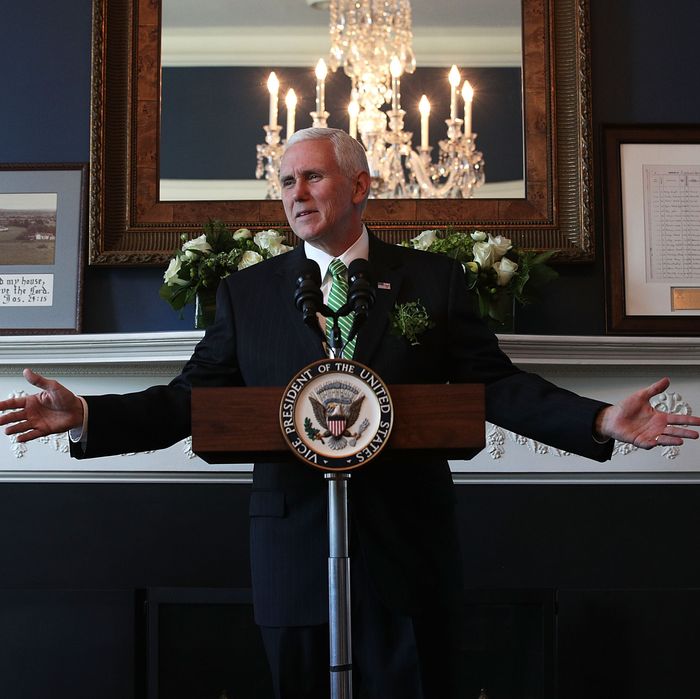 Vice-President Mike Pence practices his hosting skills at the Naval Observatory on March 16, 2017.
Photo: Alex Wong/Getty Images
Fueling speculation about your own political ambition is one of the vice-president's key duties, and Mike Pence is doing a stellar job. Thanks to all the talk of Trump's potential impeachment, people are already talking about what a Pence administration might look like, but the veep isn't letting the Russia investigation do the work for him. In May he launched his own PAC, which is a first for a sitting vice-president, and now the New York Times reports that he's been quietly courting key donors, business executives, and Republican political leaders.
The effort is said to include one-on-one talks with wealthy donors who have yet to embrace Trump, like billionaire Charles Koch, and appearances at receptions with potential donors to the pro-Trump group America First Policies. But according to the Times, dining chez Pence is the veep's favorite tactic:
The centerpiece of the effort is a string of dinners held every few weeks at the vice president's official residence on the grounds of the Naval Observatory in Washington. Mr. Pence and his wife, Karen, have presided over at least four such soirées, and more are in the works. Each has drawn roughly 30 to 40 guests, including a mix of wealthy donors such as the Chicago hedge fund manager Kenneth C. Griffin and the brokerage firm founder Charles Schwab, as well as Republican fund-raisers and executives from companies like Dow Chemical and the military contractor United Technologies.
Close Pence advisers who are involved in America First Policies and America First Action help select the guest list, and many of the invitees happened to help raise millions for the Trump campaign. However, Pence's press secretary Marc Lotter described the dinners as "private" events, rather than political fundraisers — which could be problematic, as soliciting political contributions in government buildings is illegal.
Obviously, wooing important GOP donors helps Pence's political prospects, but it doesn't mean he's scheming behind Trump's back. As the Times notes, Trump does not like courting campaign contributors and may be happy to leave the task to Pence.
It's not unusual for presidents to offer perks to influential supporters, and Vice-President Joe Biden entertained donors at the Naval Observatory as well. But previous administrations did not run on the idea that they weren't beholden to big donors, and would drain the D.C. swamp.