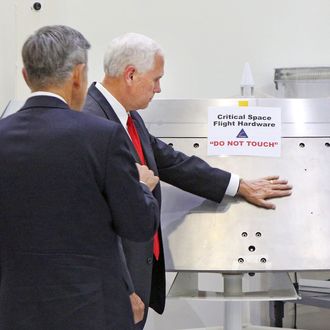 Photo: Red Huber/Orlando Sentinel/TNS via Getty Images
We, the bloggers of Select All, have a question. Can Vice-President Mike "I Call My Wife 'Mother' and Shall Not Dine Alone With Any Other Women But Her" Pence read? Has he somehow assumed the second-highest office in the land without the ability to comprehend the written word? New photographic evidence from Pence's visit to NASA's Kennedy Space Center on Thursday has us suspicious. During the visit, Pence placed his hand on a piece of NASA equipment in the Orion clean room, completely ignoring the "Critical Space Flight Hardware: DO NOT TOUCH" sign attached to it.
So … can Mike Pence read? The jury is still out. But I hope you can, because the tweets are very good.