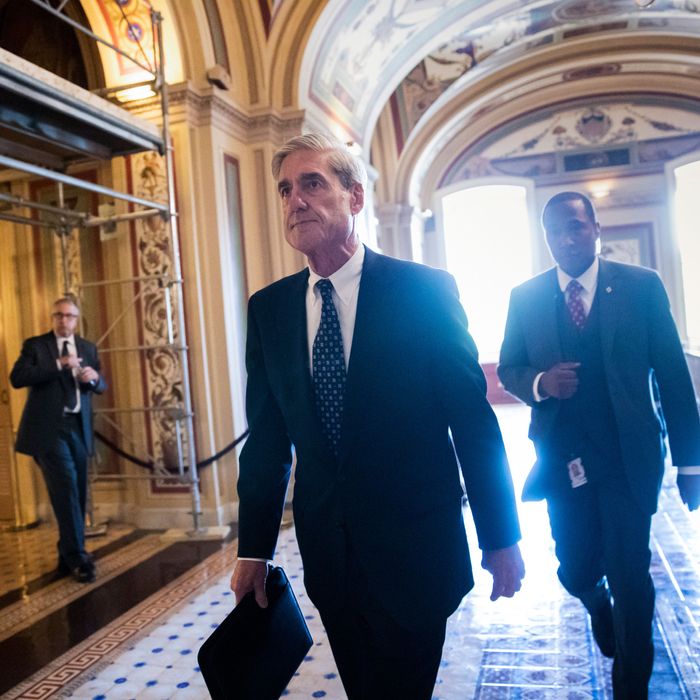 Bluff caller.
Photo: J. Scott Applewhite/AP
A day after President Trump told the New York Times that any investigation of his personal business dealings by special counsel Robert Mueller would be a "violation," Bloomberg is reporting that Mueller is doing exactly that.
The special counsel's probe, ostensibly about digging into potential ties between the Trump campaign and the Kremlin's efforts to influence last year's election, has expanded to include "a broad range of transactions involving Trump's businesses as well as those of his associates," Bloomberg says.
Among the topics of interest to the special counsel are the 2013 Miss Universe pageant, which was held in Moscow, and the purchase of Trump properties by Russian oligarchs. Some business dealings of Commerce
secretary Wilbur Ross and Trump's son-in-law, Jared Kushner, are also being investigated.
By delving into Trump's business ties with Russian actors, Mueller is continuing work started by former Manhattan U.S. Attorney Preet Bharara, who was fired by Trump in March.
It hardly seems like a coincidence that this aspect of the investigation was leaked to Bloomberg the day after Trump agreed that it would be "a red line" for Mueller to dig into his business ties. Asked if he would "fire Mueller if he went outside of certain parameters of what his charge is," Trump said, "I can't answer that question because I don't think it's going to happen."
Now that it's happened, Trump will have to answer that question.