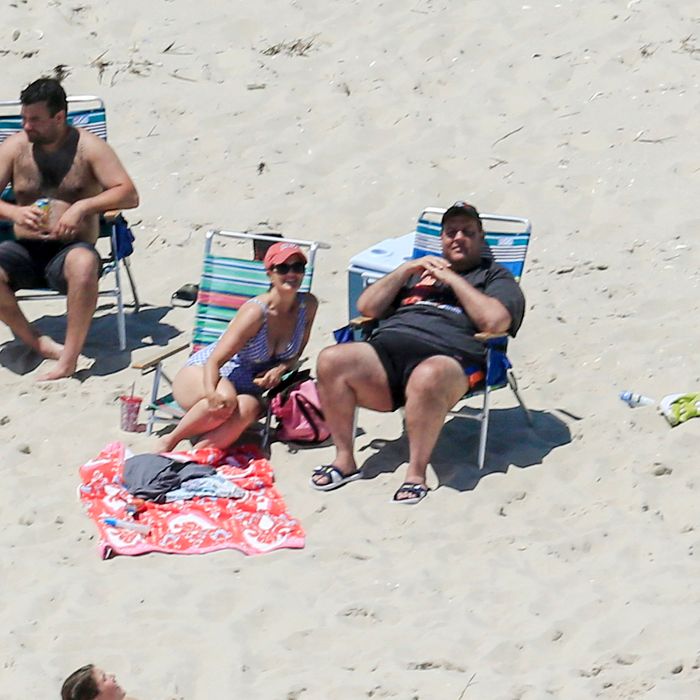 Chris Christie, not getting any sun during the shutdown.
Photo: Andrew Mills | NJ Advance Media/AP
New Jersey's three-day government shutdown came to an end early on Tuesday morning, allowing state beaches and parks to reopen for the last day of the Fourth of July weekend. After midnight, both houses of the legislature passed the state budget and a bill on the issue that sparked the shutdown: the finances of Horizon Blue Cross Blue Shield, the state's largest health insurer. Governor Chris Christie signed the budget into law at 2:39 a.m.
Christie had called for Horizon to turn over $300 million from its reserves to fund an opioid-treatment program. In return, the governor promised not to use his line-item veto to cut Democratic priorities from the proposed $34.7 billion state budget. According to NJ.com, Democratic Senate president Stephen Sweeney wanted to go along with Christie's demands to protect the budget, but Democratic Assembly speaker Vincent Prieto balked. Horizon said reducing its reserves could prevent it from meeting policyholders' needs in the case of a catastrophic event and drive up premiums.
Christie claimed he got "exactly" what he wanted, but Horizon did not have to hand over any money. Instead, the deal struck on Monday night requires Horizon to submit to annual audits and puts a cap on its reserves. Now its reserves must be between 550 percent and 725 percent and, if it goes over, the excess money must be spent on policyholders, according to Politico. Last year, Horizon's reserve ration was 618 percent.
As the New York Times noted, what will stick in people's minds isn't the squabble over the health insurer's finances, but the photos of Governor Christie sitting in the sun on Island Beach State Park while the shutdown barred others from state beaches and parks.
Even before the photos were published, Christie was defiant about his decision not to let the government shutdown disrupt his vacation. On Saturday, he said he had every right to stay in the state-owned governor's retreat. "That's because the governor has a residence at Island Beach. Others don't," Christie said. "It's just the way it goes. Run for governor and then you can have the residence."
There are actually five other families who were allowed to maintain summer residences on Island Beach when the state bought the land to make a park in 1953. But according to The Star-Ledger on Friday night, police told the families they had to vacate their homes by midnight or they'd be arrested. "We're angry," said Howard Height, who obeyed the order to leave his Island Beach home over the weekend. "Shouldn't we be?"
At a press conference on Monday, after the Beachgate photos became a meme, Christie said he always puts his family before politics, and he wasn't going to cancel plans he made with his children and their friends.
"I don't apologize for it. I don't back away from it," Christie said in response to the beach pictures. "I think my poll numbers show that I don't care about optics. What I care about is doing what's right and wrong."
Christie said that 119 miles of the state's 130 miles of coastline were open during the shutdown, but many still blamed the governor for disrupting their holiday weekend.
Gail Swayze, a bartender at the Red Fox Beach Bar and Grill at Island Beach State Park, estimated that she had lost $1,000 in tips alone thanks to the shutdown. On Tuesday, she was celebrating the end of the shutdown with a $5 cocktail called the Christie Crush. "Crush him, like get him out of office," John Zaccara, the bar's bouncer, explained.
Meanwhile, in Seaside Heights, beachgoers snapped photos with a sand sculpture mocking Christie's response to the shutdown, according to NBC New York.
"The photos are likely the nails in Christie's political coffin that drive his approval ratings into the single digits," Montclair State University political-science professor Brigid Harrison said.