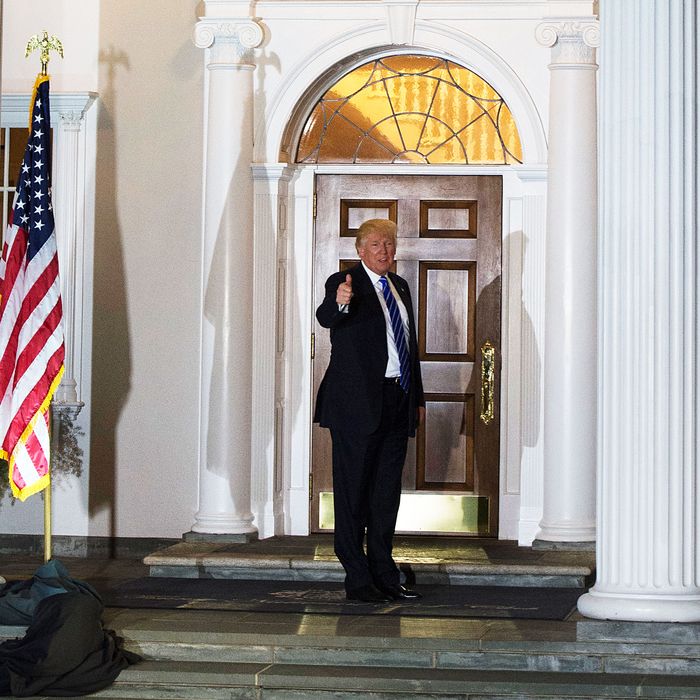 Thumbs up.
Photo: Don Emmert/AFP/Getty Images
After leaving Paris on Friday morning, President Trump broke some news on Twitter that meant a lot more to the women in the Ladies Professional Golf Association and their fans than it did to most Americans.
Despite warnings of the headache it would create and the threat of protests, Trump will be attending the U.S. Women's Open at the Trump National Golf Club in Bedminster, New Jersey, this weekend.
Organizers were aware of this possibility and began making arrangements for it earlier in the week. Players were told to allow for extra travel time to the course and to be prepared to have any and every possession searched.
"They made me pour out my Starbucks in the security screen yesterday," golfer Tiffany Joh told CNBC Friday. "My caddie saw a Secret Service agent with a sniper," said player Alison Lee.
Last month, the potential for inconvenience had one golfer suggest that Trump's attendance would be a "big debacle."
"Hopefully, maybe, he doesn't show up and it won't be a big debacle and it will be about us, and not him," golfer Brittany Lincicome told the Chicago Tribune when it still wasn't clear whether Trump would attend.
But it became obvious earlier this week that he'd be there. Why else would an air-conditioned viewing stand, stocked with Coke products, have been constructed a few yards from where golfers will tee off on the 16th hole?
Along with Trump, his security detail, and the golfers, there will be plenty of protesters at Bedminster. The group UltraViolet is planning protests of the U.S. Golf Association's choice to hold the event at Trump's course. Their plans include a rally, a digital truck billboard, and a plane flying with a banner that reads, "USGA: STAND WITH WOMEN, NOT TRUMP."
It's pretty clear that, with Trump's arrival, the biggest event of the LPGA tour will now be about him. According to one reporter, he began overshadowing the tournament the moment he announced his planned attendance on Twitter.