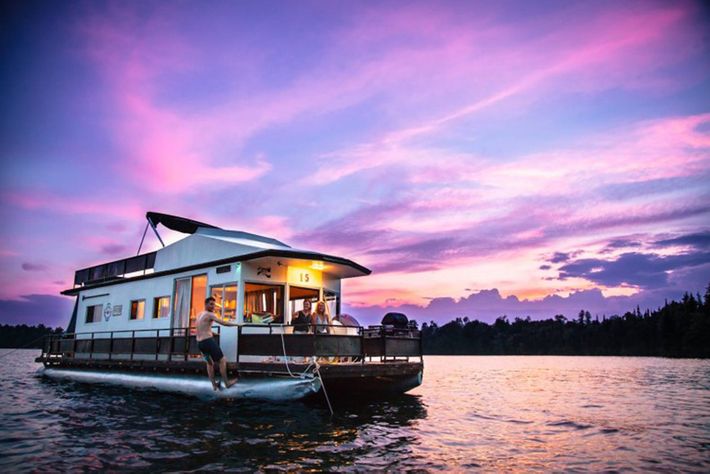 In Canada, renting a houseboat and embarking on a multi-day waterway adventure is a definite "thing"; it's a leisure-seekers' subculture, and a super charming one at that. Before the summer ends, take a cue from our neighbors to the north and go beyond the typical Hamptons getaway – try houseboating in Ontario. Not only is it an out-of-the-box, unforgettable experience (think: a floating hotel), it's surprisingly easy to do. You don't need a boating license or even prior boating experience.
We've broken down the key details on two of Canada's most scenic routes: the Rideau Canal and the Trent-Severn Waterway, both in Ontario. They're each about a seven-hour drive from New York, or you can fly into Toronto or Ottawa in about 90 minutes to shorten the trip.
From where to grab your sweet ride, to the not-to-miss stops along the way, here's what you need to know.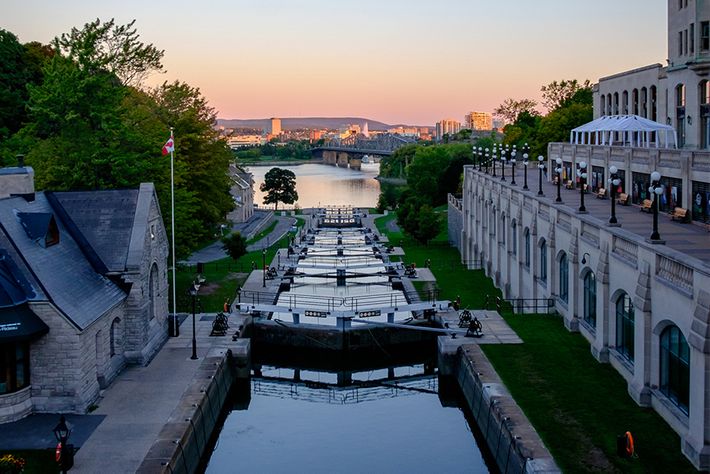 This UNESCO World Heritage Site opened in 1832 and is North America's oldest continuously operating canal system, complete with working historic locks. The Rideau Canal is not just a canal, but is actually an amalgamation of rivers, lakes, and waterways (only about 10% of it is man-made). It stretches about 125 miles, connecting Ottawa to Kingston on Lake Ontario and the Saint Lawrence River. You'll be able to spot major cities, quaint towns, and straight up nature from the water along the six-day, one-way journey.
Grab your ride at top rental spots like Waterway Get-a-way in Smith Falls, Big Rideau Lake Boat Rentals in Portland, and Houseboat Holidays in Gananoque. From couple's cruisers, to four-cabin, four-bath larger vessels, you'll definitely find something that fits your needs. And, in 2018, be on the outlook for European outfitter Le Boat – their luxury cruisers are slated to make their Rideau debut, and we recommend booking in advance.
Side note: If you can't make it to Canada until winter, you can actually ice skate over a nearly five-mile portion of the canal from January through late February/early March.
What to See
Be sure to dock at some of these must-see spots.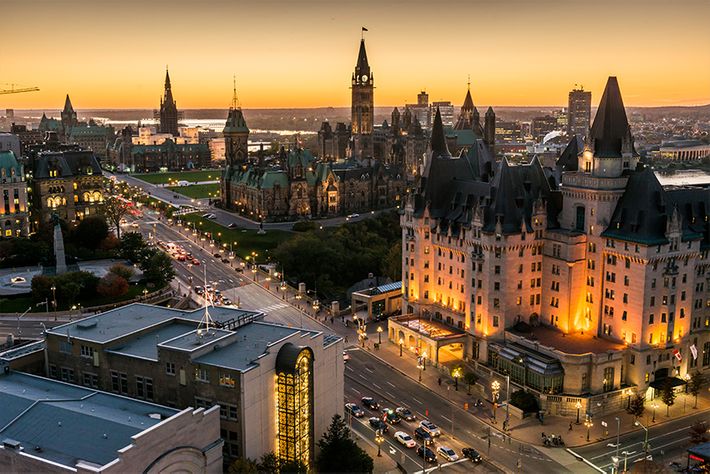 Canada's Capital: There's obviously a ton to see in Ottawa, Canada's capital city. For starters, check out Canada's Parliament buildings and the statues and monuments on Parliament Hill. Also, make a visit to a few of the many national museums, like the Canadian Museum of Nature.
ByWard Market: Also in Ottawa, you'll find ByWard Market, one of Canada's largest and most historic marketplaces. Over 500 businesses set up shop in the market; grab fresh food, scoop up local produce, and peruse all kinds of unique wares and crafts from Canadian artisans.
Black Rapids: This lock station in Ottawa is an ideal and picturesque picnic spot. In fact, any of the 25 lock stations along the Rideau Canal make for a divine lunch stop.
Watson's Mill: You'll find historic Watson's Mill on the shores of the Rideau River in the village of Manotick. The 1860-built grist and flour mill actually still operates (providing the water level is right), and you can even purchase flour. On Sundays in May-October from 1-3 p.m. you can catch a milling demonstration.
Merrickville: Historic Merrickville is known as the "Jewel of the Rideau," and even a quick visit will show you why. There's a robust artistic community, many quaint shops, historic buildings, and dining options galore.
Where to Dock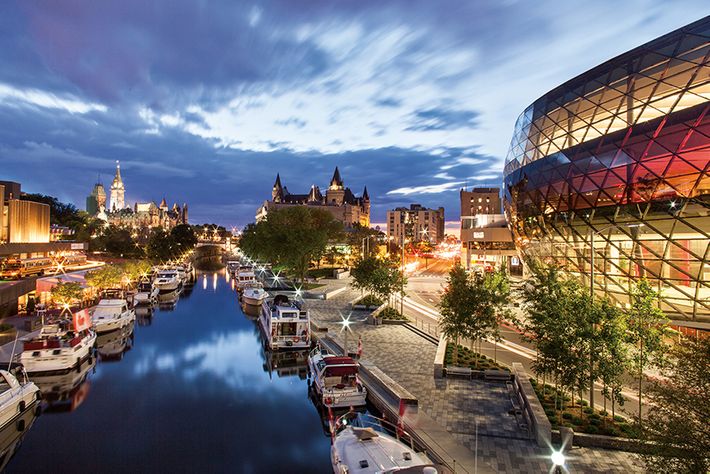 Marinas: There are plenty of marinas and lock stations along the way to fuel up and dock your boat. Some of the sheltered bays offer safe places to drop anchor for the night.
Off-boat Accommodations: Speaking of lock stations, many have campsites if you're looking to spend a night off the boat. And some are quite spiffy: You can find glamping-esque oTENTiks (which we recommend reserving ahead of time) with canvas walls, wood frames, and actual mattresses at the Upper Nicholson or Upper Beveridges lock stations.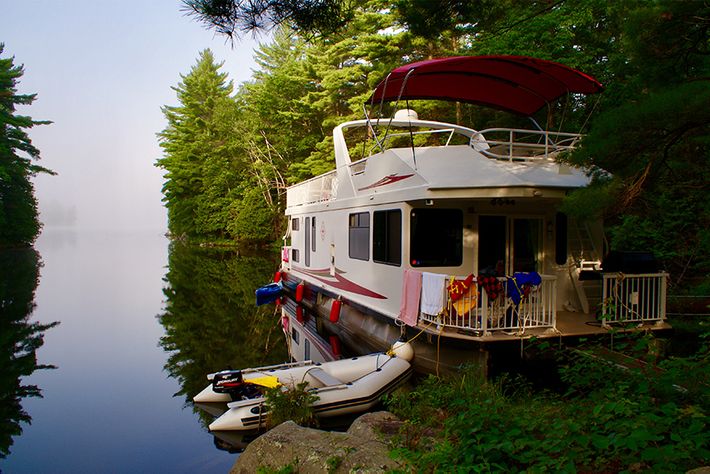 The Trent-Severn Waterway, a lake and river route, begins on the Bay of Quinte on Lake Ontario. It flows through to Port Severn, where it eventually meets Georgian Bay. Houseboaters can opt to travel through the entire waterway (it takes about a week, depending on what you decide to explore), or jump on at any point. It's truly a choose-your-own-adventure sort of excursion; there are so many places to stop and dock, as well as lakes so picturesque, you'll want to linger for days.
When it comes to the vessel you'll be captaining, Egan Houseboat Rentals, Happy Days Houseboats, and R&R Houseboat Rentals are all solid options. The typical houseboat you'll find on the Trent-Severn has a bathroom and kitchen, even a grill and deckchairs, and sleeps around six adults comfortably. You can go larger and also more luxe though; some boats have features like rooftop sleeper cabins, waterslides, and fireplaces.
What to See
Apart from the incredible views you'll catch from the water, there's a lot on land to check out, too.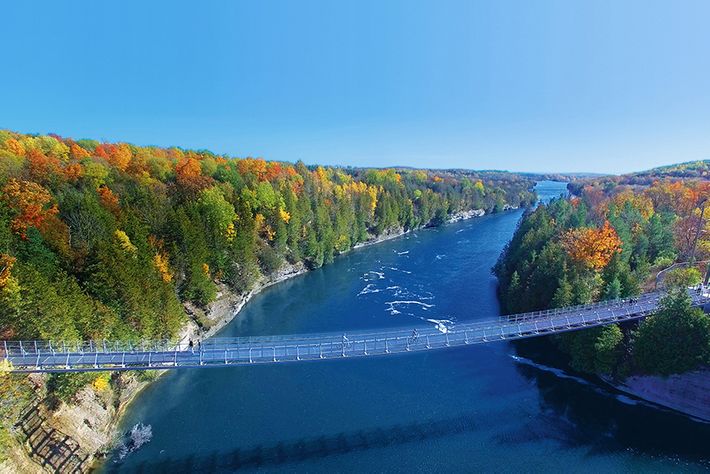 Warsaw Caves: This system of seven caverns lies just north of Peterborough. Bring a flashlight or headlamp and wear sneakers and clothes you don't mind getting dirty – there are some tight squeezes – to explore them for yourself. There are also great hiking trails that may be more your thing if you prefer the wide-open spaces of the great outdoors.
Whetung Ojibwa Centre in Curve Lake: Peruse the collection of authentic Native-made and made-in-Canada crafts, jewelry, and artwork at this seventh-generation family-owned business.
Ranney Gorge Suspension Bridge: In Ferris Provincial Park in Campbellford, this bridge hangs high above the Trent River. Cross it if you dare, and explore the hiking trails in the park if you're up for more adventure. We also enjoy the fact that the bridge has its very own, very Canadian motto: "Get over it, eh."
Church-Key Brewing Company: Also in Campbellford, located in an 1878-built Methodist church, you can find Church-Key Brewing. Take a guided tour at the award-winning microbrewery (the only one in Northumberland County), well-known for its flagship Northumberland Ale and Holy Smoke Scotch Ale.
Butter Tart Tour: In Kawarthas Northumberland, there are over 50 locations where you can find this quintessentially Canadian treat: butter, syrup, sugar, and egg in a flaky pastry crust. There are essentially two camps of butter tart lovers: Some prefer a runny center, and others a firmer one. Grab a map, strategize which spots to hit, and decide whose side you're on.
Where to Dock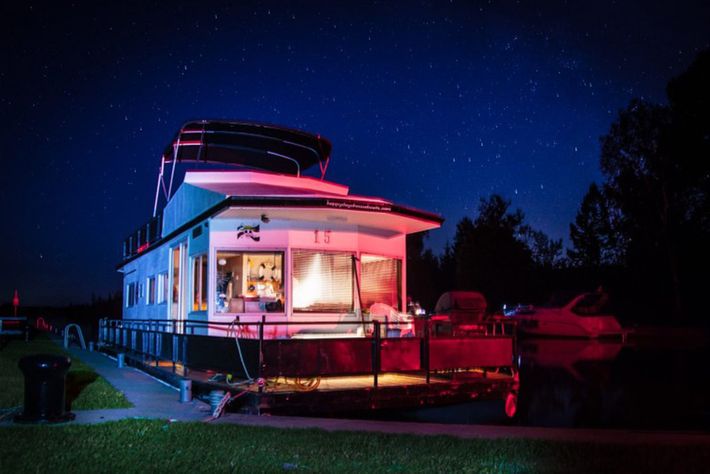 Marinas: There are plenty of marinas along the way to dock your boat, fuel up, grab snacks, and explore the surrounding areas. Here's a handy marina locator just to make it extra easy.
Off-boat Accommodations: If you decide to ditch your boat digs for a night, there are lots of charming B&Bs and cozy rental cottages flanking the shores to choose from.
Now that you have the deets, the hardest part is deciding which houseboating route to make your next getaway. Whichever you choose, we assure you the Instagrams alone will be well-worth it.
This is paid content produced for an advertiser by New York Brand Studio. The editorial staff of Daily Intelligencer did not play a role in its creation.