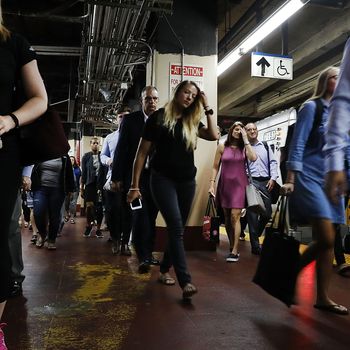 Commuters exit a train at Pennsylvania Station on the first morning of long-planned track repairs at the station, one of the busiest in the nation, on July 10, 2017, in New York City.
Photo: Spencer Platt/Getty Images
"So far, so good," MTA chairman Joe Lhota said Monday morning about the first official day of Penn Station emergency track repairs, more commonly referred to as the "summer of hell." Commuters have been bracing for the eight-week disruptions along all three rail lines into and out of Penn: LIRR, New Jersey Transit, and Amtrak.
But as Lhota said, day one of potential hell — while maybe a bit more crowded than usual on some lines — seems to have gone better than some regular-old weekdays of late.
LIRR service is being cut about 20 percent, and select trains are being diverted to Atlantic Terminal in Brooklyn, or Jamaica or Hunterspoint Avenue in Queens with some free transfers to the subways.
The MTA is also offering some commuting alternatives, including park-and-ride bus service to the city, and a ferry service, which apparently made a pretty smooth maiden voyage:
Although some riders pointed out reporter-related delays:
Many New Jersey Transit commuters on Midtown Direct trains will instead have their rides terminate in Hoboken, forcing them to hop on the ferry, bus, or PATH to the city. (Among other service changes.) Crowds seemed to be the biggest issue, particularly among PATH riders on Monday morning.
And even if regional commuters made it into the city without too many mishaps, the subway never fails to make up for it:
Or as one commuter summed it up: