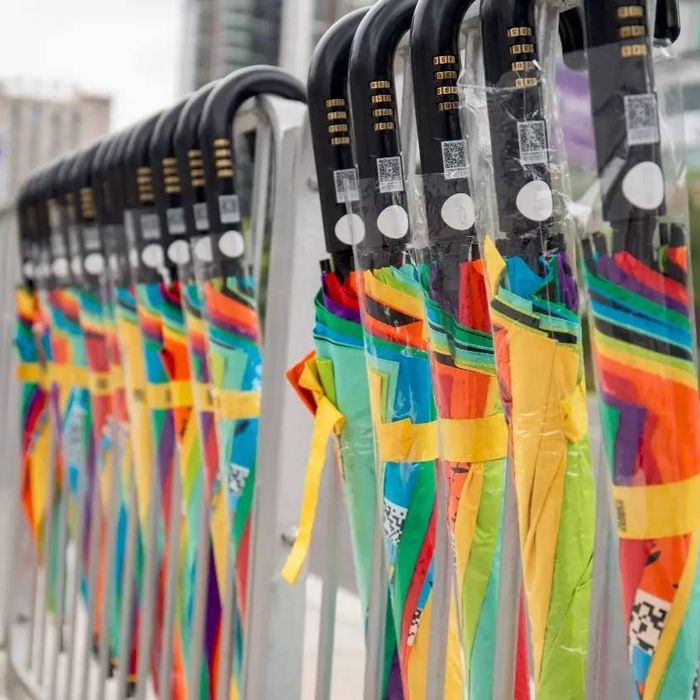 Photo: Sharing E Umbrella
Sharing E Umbrella, a Chinese umbrella-share start-up, has only been in operation for a few weeks. Which was apparently all the time it needed to discover that umbrellas are not bikes. Not in the only one of these will keep you dry sense, but rather in the people are a lot more likely to steal an umbrella than a bike sense. Almost all of the 300,000 umbrellas the company released in 11 cities across China have already been stolen, Shanghaiist reports.
The company's business model — which clearly needs some tweaking — works like this: Users reserve umbrellas on their phones via an app. There's a $2.80 deposit on the umbrella and each half-hour costs 7 cents. Users can pick up and drop off the umbrellas at designated spots, like bus stops. Or they can pick them up and then never return them, which costs Sharing E Umbrella roughly $9 per unit.
Still, the company isn't letting its losses rain (sorry) on its parade. Sharing E Umbrella plans to ship another 30 million umbrellas by the end of the year, Shanghaiist also reports. Because doing the same thing over again and expecting vastly different results usually works out well.