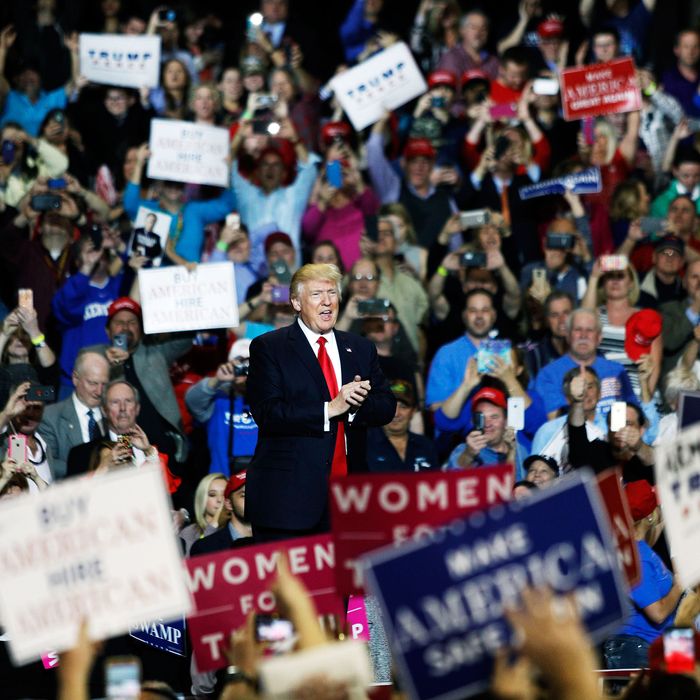 Trump's hoping Poland looks a bit more like Kentucky on Friday.
Photo: Bill Pugliano/Getty Images
When President Trump arrives in Poland, in Warsaw's Krasinski Square, to speak on Thursday, he'll be greeted by an enthusiastic audience of supporters — the Polish government has made sure of it.
According to news reports out of the country, Poland's conservative ruling party is busing supporters to the capital to boost Trump's ego. This is not just a courtesy to the U.S. president, who's been accused of traveling with his own gaggle of human applause machines, it's the fulfillment of a promise made to the White House, the AP reports.
Newsweek says all members of the country's ruling party have been told to bring 50 supporters to Warsaw for the event, described by one lawmaker as a "great patriotic picnic." As the magazine notes, for old-timers in Poland, this will be a familiar scene:
The tactic is a mirror of that adopted when Poland was a member of the Soviet bloc, and the Communist Party would bus agreeable crowds to Warsaw to greet visiting dignitaries from Moscow.
Among those in the adoring crowd that greets Trump will be the country's president, Andrzej Duda. Elected in the summer of 2015, Duda is a member of the right-wing Law and Justice Party, and, like Trump, he's an anti-immigration nationalist with an authoritarian streak.