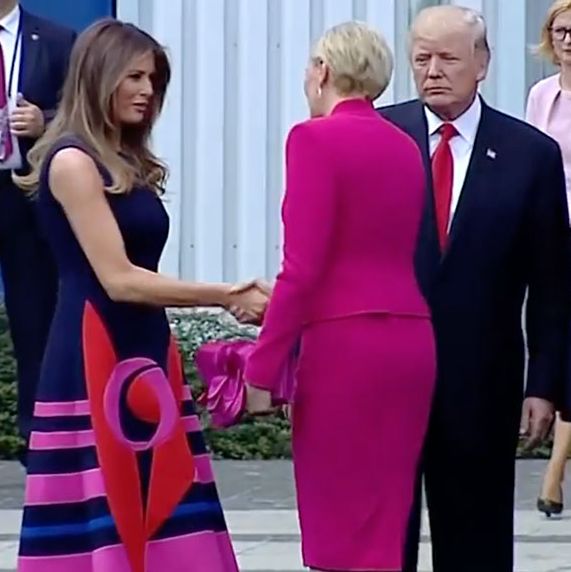 A perfect curve from Poland's First Lady.
Photo: Time
Canada's Justin Trudeau went for the skeptical-stare approach. Japan's Shinzo Abe tried a shake for the entire duration of Trump's term maneuver. Panama's Juan Carlos Varela opted for verbally owning Trump while shaking his hand. But none of them can top today's viral Trump handshake, or rather non-shake, starring the First Lady of Poland, Agata Kornhauser-Duda. During a visit to Warsaw this week, Trump shook Polish president Andrzej Duda's hand, but when he went to shake Kornhauser-Duda's, she passed over his hand and went for the shake with Melania Trump instead. (It's unclear if she just didn't see Trump extending his hand, but either way, the optics are, well, not great for the U.S. president.) Kornhauser-Duda eventually did end up shaking Trump's hand, but only after people online recorded many, many excellent video clips of her skipping the initial handshake.
Perhaps the First Lady studied up on the Tiffany Trump Curve Method before meeting with the president today. Trump's daughter knows a thing or two about avoiding physical contact with her dad while the cameras are rolling.