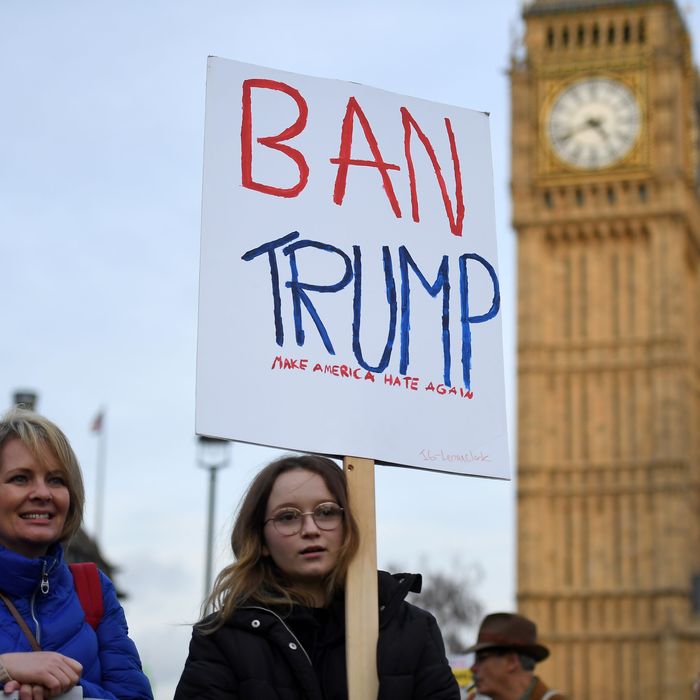 Not looking forward to a Trump visit.
Photo: JUSTIN TALLIS/AFP/Getty Images
More than five months after British prime minister Theresa May first invited Donald Trump to visit the U.K., he still hasn't made the trip. Turns out the massive protests that are guaranteed to greet him in London are deterring him from visiting at all — that is, unless he can sneak in, which is exactly what might happen.
According to reports in the Guardian and the Times of London, Trump might pop into Downing Street for a quick, informal meeting with May sometime in the next couple weeks. The visit would happen between the G20 summit in Hamburg next weekend and the July 14 Bastille Day celebrations in Paris, which Trump has committed to attending.
The Guardian says Trump is expected to check in on his golf course in Turnberry, Scotland, while killing time between meetings in Germany and France. From there, he could mosey on over to London, or meet May at the prime minister's country residence outside of the capital.
The White House is denying any such plans, calling the reports from British newspapers "not accurate." A spokesperson for May told reporters, "I am not aware of any plans for the president to visit the U.K. in the next few weeks."
But if Trump does show his face in England, protestors will be ready. Owen Jones, a columnist for the Guardian and leader of the Stop Trump Coalition, is organizing support for protests.
"Donald Trump is so cowardly he thinks he can sneak into the country to avoid protests," Jones said, according to the Independent. "We have to prove him wrong. We're asking Britain to be on standby to take to the streets with just hours' notice if necessary."
Dave Prentis of Unison, one of the U.K.'s largest unions, told the Guardian, "If Donald Trump thinks he can come here under the radar, then he's wrong. He's an intolerant and small-minded individual who is despised by many."