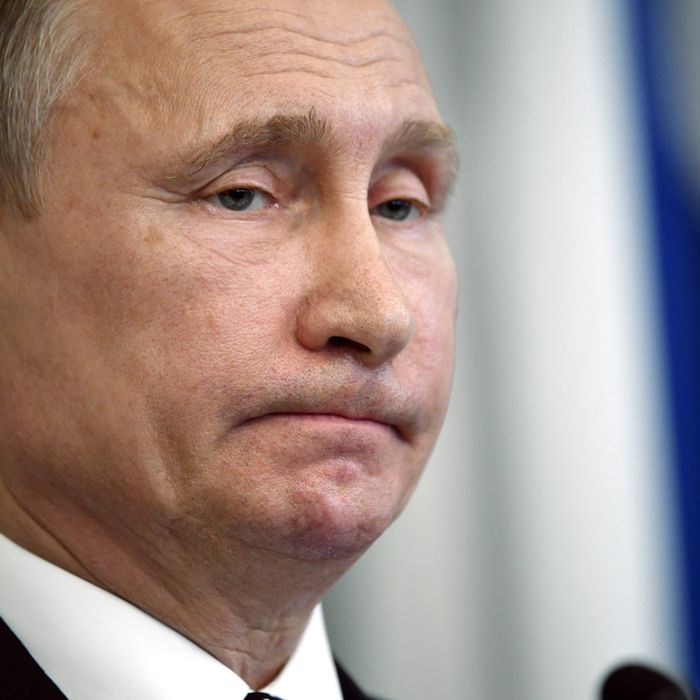 Putin says he's not waiting around for improved relations anymore.
Photo: Martti Kainulainen/AFP/Getty Images
Two days after the White House said that President Trump would sign legislation imposing new sanctions on Russia, Russian president Vladimir Putin confirmed that he was ordering the U.S. to significantly cut the number of diplomats it has stationed in the country. Putin says 755 U.S. Embassy personnel must be gone by September 1, explaining in a state-television interview on Sunday that he no longer expects the U.S.-Russia relationship to improve. "We waited for quite some time that maybe something will change for the better — had such hope that the situation will somehow change, but, judging by everything, if it changes, it will not be soon," Putin said.
"It is time for us to show that we will not leave anything unanswered," he added.
The Senate passed the new sanctions on Thursday, sending the bill to Trump's desk. In response on Friday, the Russian foreign embassy told the Trump administration that the U.S. would have to reduce its diplomatic staff in Russia to match the size of Russia's U.S. staff level. Putin's statement on Sunday confirmed that order and specified the number of people who will be affected.
After September 1, the number of American diplomatic and technical personnel allowed to remain in Russia will be limited to 455 people. Reuters reports that the U.S. currently employs about 1,100 diplomatic and support staff in the country, which includes both U.S. and Russian citizens.
Initial reports about Putin's order indicated that 755 American diplomats would need to leave the country, but the actual translation of Putin's comments turns out to have been that 755 U.S. Embassy personnel will have to "pack up." That being the case, it's likely that Putin's order means that the U.S. will have to both pull some of its American diplomatic personnel and fire some of its Russian support staff. (A former U.S. ambassador to Russia, Michael McFaul, also pointed out on Sunday that he didn't think there even were as many as 755 American diplomats working in Russia.)
In another retaliatory move on Friday, the Kremlin also said it was seizing two U.S. properties in Russia that are used by American diplomats for recreational purposes.
Appearing on ABC's This Week on Sunday, Russia's Deputy Foreign Minister Sergei Ryabkov warned that they were considering additional retaliatory measures, as well. Calling Russia's response "long, long overdue," Ryabkov added, "I can assure you that different options are on the table and consideration is being given to all sorts of things, both symmetrical or asymmetrical."
If these threats were meant to dissuade President Trump from signing the new sanctions into law, Trump never really had that option to begin with. The additional financial sanctions, which U.S. lawmakers sought as payback for Russia's meddling in last year's presidential election, received veto-proof, almost-unanimous support from both houses of Congress last week. The White House originally objected to the legislation because it included a component that prevented the president from being able to reduce or drop the sanctions without congressional review and approval. Trump, who has been dealing with an ongoing investigation into whether or not members of his campaign helped Russia interfere in last year's election, was not able to get that review component removed. On Friday, after a week of mixed signals as to whether or not Trump would veto the bill, the White House announced the president would indeed sign the legislation.
This post has been updated to include additional details and better clarify who the order targets.