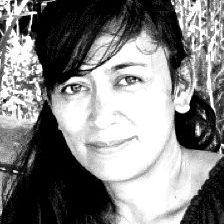 S. Jhoanna Robledo, 1970–2017.
Photo: Will Wade
Longtime readers of Daily Intelligencer and New York Magazine will instantly recognize the byline of S. Jhoanna Robledo, our real-estate reporter of more than a decade. We are all extremely saddened to report that Jhoanna died on Wednesday morning, after a brief bout with a fast-moving cancer, at 46.
You would have been hard-pressed to find a bubblier person in this office. Jhoanna was enthusiastic about the work, the process, the snap and speed of journalism. She was an extraordinary stickler for ethics, and recoiled at even the hint of a conflict of interest. She was deeply sympathetic, to her journalistic subjects and readers alike. I wonder if that came from her unusual life, growing up in the Philippines and Hong Kong and then coming to a small town in Michigan for college; I suspect that being dropped into an unfamiliar environment like that made her particularly attuned to the concerns of people who didn't feel as though they were solidly on their feet.
Almost everyone here has a Jhoanna story: "I mentioned that I was trying to get my driver's license, and she immediately volunteered to take me out in her car." "She was the best cubicle-mate you could hope to have." I probably don't need to tell you how many staff members called her for advice when seeking an apartment, and she always, always offered more help than they had asked for. Some reporters keep their contacts close to the chest; she shared freely. Nobody here, and I mean nobody, disliked her.
That all might imply that she was a softy, but as a reporter, she could also be tough and ambitious. She came into the job here through the tiniest of back doors. In 2003, she cold-e-mailed us with a very small story about Fairway. The little item that came in was lively and ready to go, and ran the next week. Soon, she was doing stories for us of gradually increasing length and complexity. Jho was a good photographer, too, and her pictures occasionally accompanied her words here.
A year or two after that first story, when a staff writer went on a long-term leave, we asked her to step in temporarily and write about real estate, a subject she had covered in an earlier job. I hadn't seen her in person for awhile when I made that call, and she paused for the briefest second to say, "Yes, except … I'm six months pregnant." She instantly laid out a plan: She'd write for the next three months, and bank a few stories that could hold us through her postnatal recovery, and then jump back in as soon as she could get around again. I was skeptical, to be honest, but she persuaded me she could handle it. I'm not kidding when I say that she was so energetic and focused during those months that she probably could've gotten away with not telling me she'd had a baby. The writer who'd gone on leave never returned, and Jhoanna took over the job for good. I could rattle off a long, long list of good stories she wrote, but here's a favorite, about the tower on Astor Place. She was recognizable enough in the world of New York real estate that Curbed.com gave her an affectionate nickname: S. Jho Ro.
Her coverage in the magazine took various forms over the years, starting as a reported column of trend stories and gossip and developing into less frequent, more photographically detailed real-estate features. One that comes to mind is a beaut about extremely covetable apartments. Another addressed the rising real-estate prices along the Second Avenue Subway. There are a lot more where those came from — Jhoanna was diligent, among her other good qualities — and you can make your way through her archive at this link.
Aside from her work for New York, she contributed stories to many other outlets, including Elle and Self, and was a film critic for Common Sense Media. She's also the author of a useful book, a parents' guide to autism. In 2015, she became editor-in-chief of Brick Underground, but she did stay in our orbit as a regular contributor, and her final byline will appear in the issue out next Monday. We send love to her husband, Will Wade, and their three children.