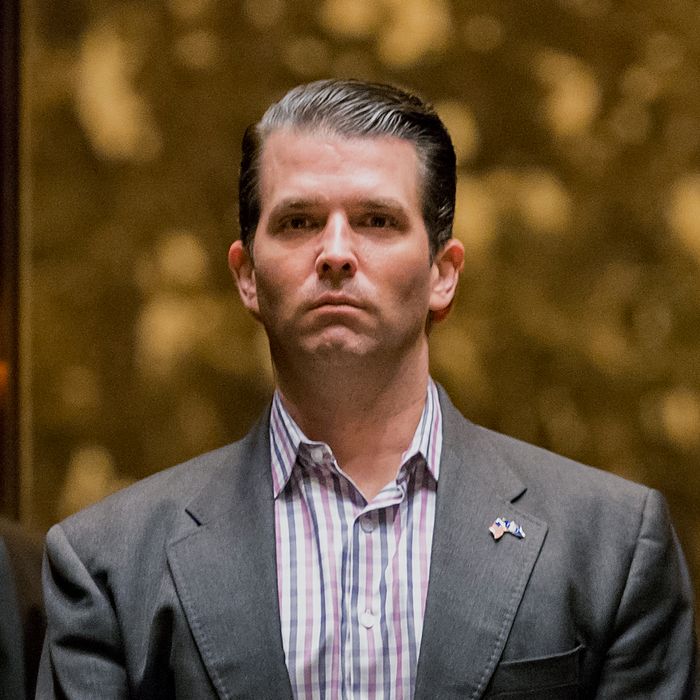 Donald Trump Jr. in a Trump Tower elevator on January 18, 2017.
Photo: Bloomberg/Bloomberg via Getty Images
Over the weekend, the New York Times reported that Donald Trump Jr., President Trump's oldest son, agreed to meet a Kremlin-connected Russian lawyer during the 2016 campaign because he was told she had damaging information about Hillary Clinton. In a statement Trump Jr. said he took the meeting because an acquaintance told him the lawyer "might have information helpful to the campaign."
Trump Jr.'s explanation: he was open to hearing damaging information from the Russians, but the lawyer, Natalia Veselnitskaya, didn't deliver. Many pointed out that this sounded an awful lot like he was confessing to at least hoping to collude with Russians – and under federal law campaigns are prohibited from soliciting anything of value from foreign entities. Nevertheless, Trump Jr. doubled down on this defense:
On Monday night the Times dropped an even bigger bombshell: before the meeting, Trump Jr. received an email saying the information Veselnitskaya wanted to share with him was "part of a Russian government effort to aid his father's candidacy."
The email reportedly came from Rob Goldstone – a music publicist who manages Russian pop star Emin Agalarov, son of billionaire Moscow developer Aras Agalarov. Goldstone has confirmed that he arranged the meeting, and attended it along with President Trump's son-in-law Jared Kushner, and then-campaign chair Paul Manafort.
The email does not lay out the full scope of Russia's efforts to aid the Trump campaign:
Mr. Goldstone's message, as described to The New York Times by the three people, indicates that the Russian government was the source of the potentially damaging information. It does not elaborate on the wider effort by Moscow to help the Trump campaign. There is no evidence to suggest that the promised damaging information was related to Russian government computer hacking that led to the release of thousands of Democratic National Committee emails.
According to the Times, this information came from "three people with knowledge of the email." It's not clear why three people willing to share damaging information about the Trump campaign had access to Trump Jr.'s emails, but some theories are beginning to circulate:
Trump Jr.'s newly hired lawyer, Alan Futerfas, said in a statement to the Times that his client had done nothing wrong and is willing to cooperate with investigators – and also appeared to confirm that the email exists.
"In my view, this is much ado about nothing. During this busy period, Robert Goldstone contacted Don Jr. in an email and suggested that people had information concerning alleged wrongdoing by Democratic Party front-runner, Hillary Clinton, in her dealings with Russia," Futerfas told the Times. "Don Jr.'s takeaway from this communication was that someone had information potentially helpful to the campaign and it was coming from someone he knew. Don Jr. had no knowledge as to what specific information, if any, would be discussed."