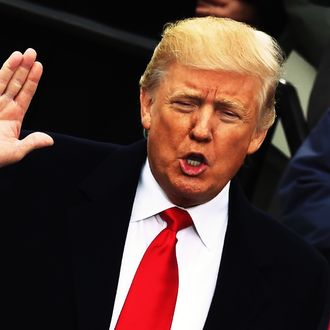 Stopping by.
Photo: TIMOTHY A. CLARY/AFP/Getty Images
Donald Trump will reportedly make a stop on Long Island this week to talk about the MS-13 gang and other law-enforcement issues. "MS-13 is why he's coming," New York congressman Peter King told Newsday. "It's why he picked this location."
Trump will likely host the event in Suffolk Country, where federal prosecutors last week charged a total of ten MS-13 gang members for a brutal quadruple homicide in April.
President Trump has vowed to crack down on the gang and targeted the deportation of MS-13 members, many of whom have ties to Central America. "MS-13, you know about MS-13?" Trump said in April. "It's not pleasant for them anymore. That's a bad group. Not pleasant for MS-13 – get them the hell out of here, right?" Around the same time – and prior to his public beleaguerment – Attorney General Jeff Sessions delivered a speech on MS-13 in Central Islip, Long Island, promising that the Trump administration would crush the gang through prosecution and immigration enforcement.
Newsday says White House officials have not confirmed the Long Island visit. It's also unclear whether such a trip to the New York suburbs might finally include a return to Trump Tower.