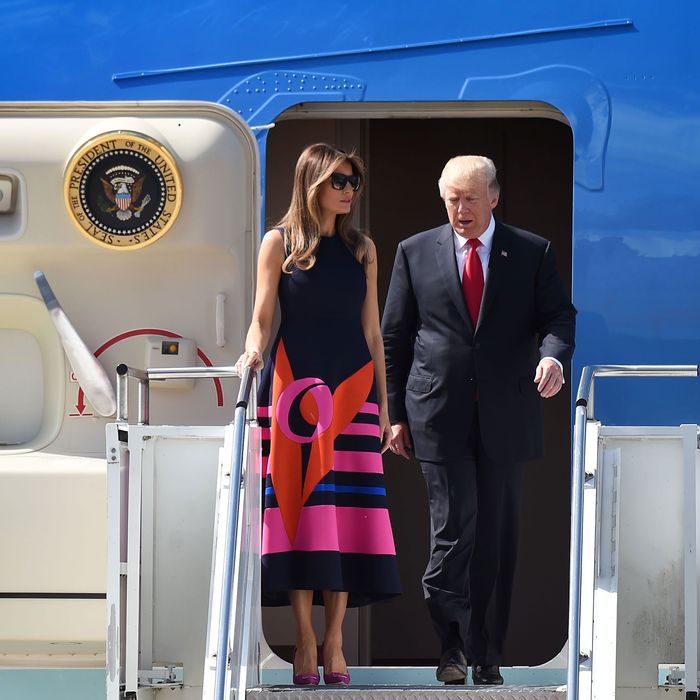 Trump arrives in Hamburg.
Photo: Christof Stache/AFP/Getty Images
When President Trump lays his head to rest tonight in Hamburg, Germany, he will reportedly be doing so in a government-owned guesthouse. That wasn't his first choice, but after the White House was unable to find a ritzy Hamburg hotel to host him, it was Trump's best option.
It's unclear if Trump encountered so many "no vacancy" signs because his team is disorganized or because he's reviled. BuzzFeed blames staffers who got a late start booking Trump's travel plans. By the time they began searching for hotels in Hamburg, all the rooms were booked.
The Four Seasons was Trump's first choice, according to German outlet The Hamburger Abendblatt. But it wasn't available thanks to Saudi Arabia's King Salman and his huge entourage. Trump was apparently turned away from many other local hotels too.
For a time, it appeared that Trump might move his base from Hamburg to Berlin, 180 miles away, and commute to the G20 meetings by helicopter, Germany's Die Welt reports.
But that plan fell apart too, and not because there were no vacancies. Speaking to Die Welt, a spokesperson for the Berlin InterContinental said that they don't typically comment on guests, "But in this case, we say clearly: No, he does not stay with us."
This isn't the first time the Trump administration has run into complications finding accommodations in Germany. In February, Secretary of State Rex Tillerson stayed at a spa catering to old folks after failing to find a hotel room in Bonn.