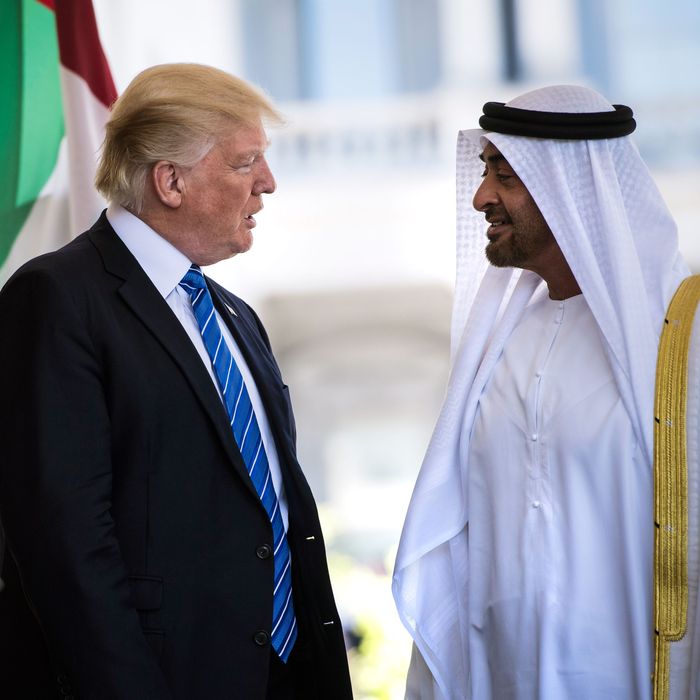 Trump conducting diplomacy.
Photo: Jabin Botsford/The Washington Post/Getty Images
During his trip to Saudi Arabia in late May, Donald Trump implored the leaders of the Muslim world to crack down on the perpetuators — and financiers — of terrorism within their midst. He also received a medal, did a sword dance, touched an orb, and relished the total absence of protests or critical press coverage in the "magnificent" autocracy.
The president left the peninsula a happy man.
Weeks later, when Saudi Arabia and the United Arab Emirates organized a blockade of Qatar, Trump took his new friends in Riyadh at their word: The blockade was the Gulf states' attempt to honor the president's bold request. The country that Trump had accused of orchestrating 9/11 one year earlier wasn't launching an economic war against Qatar to assert its regional hegemony, but rather, out of sincere desire to combat Doha's tacit support for terrorism.
This represented a radical break with the administration's initial line on the crisis. Shortly after the blockade was announced, the U.S. ambassador to Qatar rallied to Doha's defense, highlighting America's past praise for Qatar's efforts in combatting terrorism.
One day before Trump's tweets, Secretary of State Rex Tillerson encouraged "the parties to sit down and address these differences," in a speech in Australia.
Few in the administration were thrilled to see the president disown a longtime U.S. ally over Twitter (Jared Kushner, whose family had recently been jilted by a major Qatari investor, was an exception). Which made sense. After all, there's no reason to believe that Qatar is any more guilty of abetting terrorism than Saudi Arabia is; America has little use for a diplomatic crisis between its Gulf state allies; and, most critically, the U.S. runs its air operations over Syria, Iraq, Yemen, and Afghanistan from a giant military base outside Doha.
Now, the Washington Post offers fresh evidence that Trump shouldn't believe everything he reads in the official statements of Gulf state monarchies:
The United Arab Emirates orchestrated the hacking of Qatari government news and social media sites in order to post incendiary false quotes attributed to Qatar's emir, Sheikh Tamim Bin Hamad al-Thani, in late May that sparked the ongoing upheaval between Qatar and its neighbors, according to U.S. intelligence officials.




Officials became aware last week that newly analyzed information gathered by U.S. intelligence agencies confirmed that on May 23, senior members of the UAE government discussed the plan and its implementation. The officials said it remains unclear whether the UAE carried out the hacks itself or contracted to have them done. The false reports said that the emir, among other things, had called Iran an "Islamic power" and praised Hamas … Citing the emir's reported comments, the Saudis, the UAE, Bahrain and Egypt immediately banned all Qatari media. They then broke relations with Qatar and declared a trade and diplomatic boycott, sending the region into a political and diplomatic tailspin that Secretary of State Rex Tillerson has warned could undermine U.S. counterterrorism efforts against the Islamic State.
So, the president seems to have abetted an autocratic government's attempt to use cyberattacks and propaganda to spread fraudulent narratives that undermine America's national interests.
Then again, does that really sound like something Donald Trump would do?