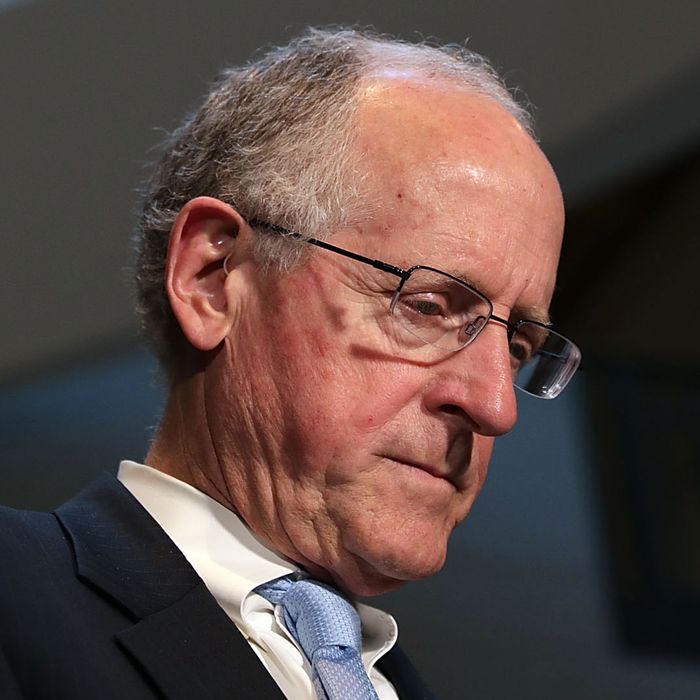 Mike Conaway.
Photo: Chip Somodevilla/Getty Images
It's hard to imagine how the GOP could have set about reforming the health-care system in a more politically toxic fashion. The American Health Care Act is the most unpopular piece of legislation that either party has pursued in the past three decades. And it isn't hard to see why: The bill would throw millions of poor people off of Medicaid, so as to finance a capital-gains tax cut for millionaire investors; it would undermine regulatory protections for people with preexisting conditions; and it would massively increase premiums for older, lower-middle-class people, especially those in rural areas — which is to say, a significant chunk of the GOP base.
In other words, GOP legislators voted to increase their own passive income by condemning thousands of their own voters to preventable deaths. What more could Republicans have done to validate Democratic narratives about who they really stand for?
The Intercept's Lee Fang provides one answer:
Just as the House Republican bill to slash much of the Affordable Care Act moved forward, Rep. Mike Conaway, a Texas Republican and member of Speaker Paul Ryan's leadership team, added a health insurance company to his portfolio.




An account owned by Conaway's wife made two purchases of UnitedHealth stock, worth as much as $30,000, on March 24th, the day the legislation advanced in the House Rules Committee, according to disclosures. The exact value of Conaway's investment isn't clear, given that congressional ethics forms only show a range of amounts, and Conaway's office did not respond to a request for comment.




It was a savvy move. Health industry stocks, including insurance giants like UnitedHealth, have surged as Republicans move forward with their repeal effort, which rolls back broad taxes on health care firms while loosening consumer regulations which prevent insurance companies from denying coverage for medical treatment. UnitedHealth has gained nearly 7 percent in value since March 24.
Three months later, as Mitch McConnell and company were rewriting the bill in Congress's upper chamber, Oklahoma senator James Inhofe purchased between $50,000 and $100,000 worth of UnitedHealth shares. Inhofe's spokesperson told the Intercept that the transaction was made by the senator's financial adviser without his consultation.
It's worth noting that, for the ordinary investor, it's rarely wise to buy and sell individual stocks — as opposed to investing in mutual funds — unless one has access to special information. And given that the mere appearance of corruption has a corrosive effect on our republic, it's difficult to understand why members of Congress don't restrict their investments to such instruments.
But then, the Trump-era Republican Party has grown quite comfortable with complicity in manifest corruption — let alone with giving the appearance of it.
New York congressman Chris Collins has, at best, a singular enthusiasm for the latter. Collins owns 17 percent of the Australian biotech firm Innate Immunotherapeutic, making him the company's largest shareholder. He is also a member of the House subcommittee that oversees the FDA.
In his role as a congressman, Collins authored legislation designed to expedite FDA approval of experimental drugs like those Innate specializes in. In his capacity as a big money Innate investors, Collins (reportedly) sold several of his fellow Republican congressmen on the virtues of investing in the company. Among those who took him up on that offer was current Health and Human Services secretary Tom Price.
In February, Collins mocked the idea that his investment in the company rendered him unfit to rewrite pharmaceutical regulations or oversee the FDA. In an interview with the Rochester Democrat and Chronicle, Collins argued that the company was foreign, and not yet seeking FDA approval — and he promised that he would not own any stock in Innate by the time it sought entry into the U.S. market.
Last month, the FDA approved one of Innate's multiple sclerosis drugs for clinical trials in the U.S. As the Daily Beast notes, Collins said last week that he remains an investor in the company.
Keep draining that swamp.