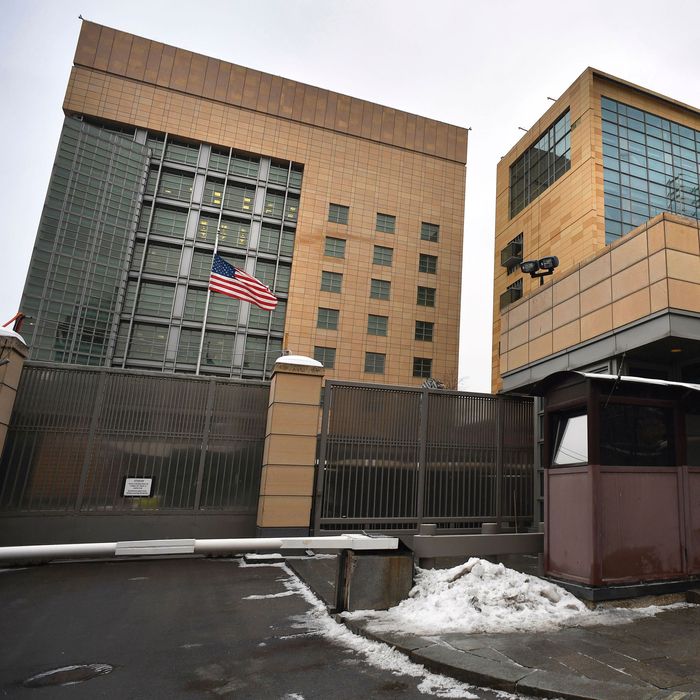 The U.S. embassy in Moscow.
Photo: ALEXANDER NEMENOV/AFP/Getty Images
Hours after the Senate voted 98–2 to send new Russia sanctions to President Trump's desk, Moscow retaliated by ordering the U.S. embassy in capital city to reduce its staff and closing two properties used by U.S. diplomats.
The Russian Foreign Ministry said in a statement that up until now, the Kremlin has "acted responsibly showing restraint and has not responded to obvious provocations. However," the statement added, "recent events indicate that Russophobia and the policy aimed at open confrontation with our country have reigned supreme in some circles in the US."
The U.S. has been asked to cut its number of staff in Russia to 455, the same number of Russian diplomats currently in the U.S. Those cuts will be made not just at the embassy in Moscow, but also the consulates in St. Petersburg, Yekaterinburg, and Vladivostok.
Russia's other move was to deny access to two diplomatic compounds in Moscow. One is a warehouse in the southern part of the city used by U.S. diplomats. The other is a kind of vacation home that the Times describes as "a bucolic site along the Moscow River where staff members walk their dogs and hold barbecues."
Last year, The Guardian described the site in more detail:
The wood-panelled house is a place where US diplomats can let their hair down. It has a pool table, dart board and picnic area. It is an unpretentious building. One visitor likened it to a 1970s scout hut.
Moscow's moves mirror those taken by President Obama in December, when he punished Russia for its election tampering by booting 35 diplomats from the U.S. and seizing control of two Russian diplomatic properties. The return of those properties has become an increasingly contentious issue between Washington and Moscow in the recent months. Earlier this month, as Trump was preparing to meet with Vladimir Putin at the G20 summit in Germany, Putin's foreign-affairs adviser warned of "retaliatory moves."
Congress's new sanctions have triggered those moves, and the foreign ministry warned Thursday that more could be coming. "On the basis of reciprocity, we reserve the right to additional measures, which could affect U.S. interests," the office said.