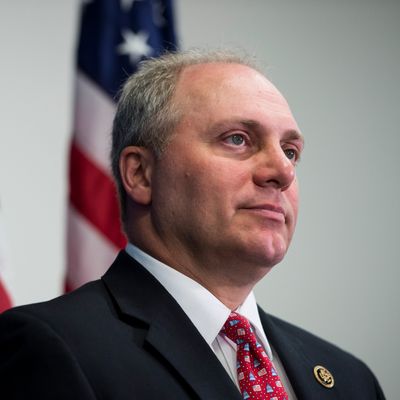 House Majority Whip Steve Scalise was shot in the hip.
Photo: Bill Clark/CQ-Roll Call,Inc.
House Majority Whip Steve Scalise, who was wounded when a gunman opened fire at a congressional Republican baseball practice on June 14, is back in the intensive care unit due to concerns related to an infection, according to a statement from his office.
"Congressman Steve Scalise has been readmitted to the Intensive Care Unit at MedStar Washington Hospital Center due to new concerns for infection," the Louisiana Republican's office said. "His condition is listed as serious. We will provide another update tomorrow, July 6."
Scalise was shot in the left hip, and doctors said the bullet "traveled across his pelvis, fracturing bones, injuring internal organs, and causing severe bleeding." According to the Washington Post, he was moved out of the ICU nine days after the shooting, and his condition had been upgraded to fair.
Earlier this week Representative Phil Roe of Tennessee, Scalise's friend, told a local ABC affiliate that the majority whip, "had a very, very serious injury. He's just out of bed. He's not able to eat yet, but he is getting better." He said he's invited Scalise to the University of Tennessee-Louisiana State University football game and, "hopefully, he'll be well enough then."
Five people were hospitalized following the shooting, including congressional staffer Zach Barth, Tyson Foods lobbyist Matt Mika, and Capitol Police officers Crystal Griner and David Bailey. The other victims were released from the hospital last month. The gunman, James T. Hodgkinson, was killed in a shootout with police.