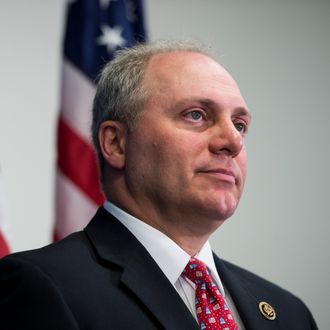 Steve Scalise returned to the ICU this week.
Photo: Bill Clark/CQ-Roll Call,Inc.
House Majority Whip Steve Scalise, who was shot during a Republican congressional baseball practice last month, underwent surgery on Thursday to control an infection. MedStar Washington Hospital Center said in a statement that the congressman "tolerated the procedure well," but "remains in serious condition."
Scalise's doctor said he was "in critical condition with an imminent risk of death," when he was admitted on June 14 with a gunshot to his left hip. His condition had been upgraded to fair, but the infection landed him back in the intensive-care unit on Wednesday.
Five people were injured last month when a gunman opened fire at a park in Alexandria, Virginia, and Scalise was the most seriously wounded. Shooter James T. Hodgkinson, who was killed by police, had been arrested for domestic battery and various other misdemeanor criminal charges. He was reportedly passionately anti-Trump and the Republican Party.