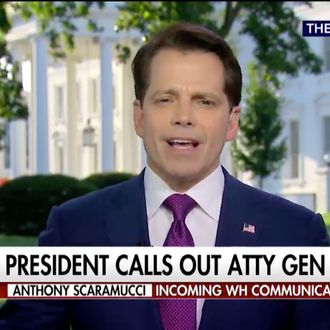 Anthony Scaramucci.
Photo: Fox News/Twitter
Anthony Scaramucci, Donald Trump's latest fair-haired boy, appeared on Fox & Friends, where he was asked an actual journalism question: Does President Trump want a new attorney general? Trump has confusingly subjected his incumbent attorney general to a stream of abuse, but has failed either to fire him or ask for his resignation.
Scaramucci replied, "I don't know the answer to that." Then he proceeded to explain that the fact that he doesn't know the answer is just another sign of Trump's compelling personality and managerial style. "The reason the American people love this man so much" — fact-check: the American people deeply dislike this man — "is that he's direct, direct to the messenger, direct to the citizen … he's going to tell you exactly how he feels."
Scaramucci seems to be playing the "Trump just blurted out something offensive" answer tape for a "why won't Trump say his position" question. And so his official line is that Trump's so direct and honest that he won't say whether he wants to retain his attorney general.