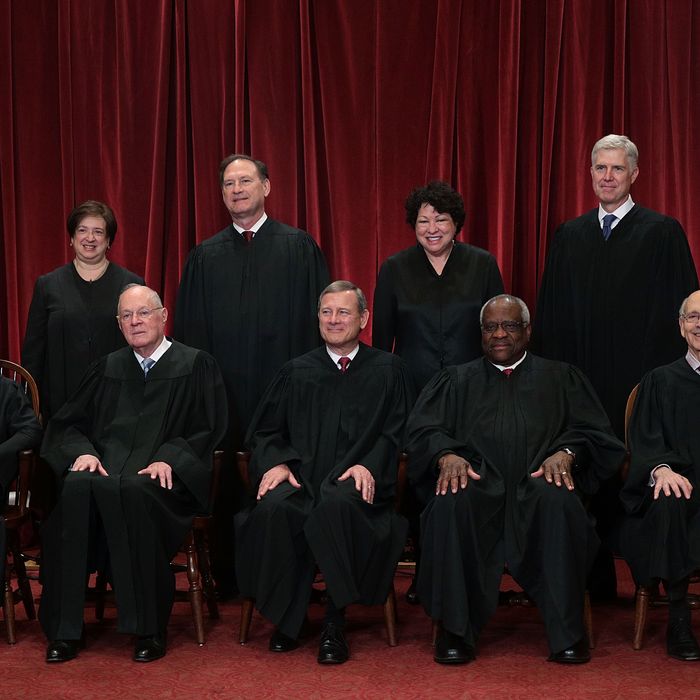 Supreme Court upholds lower court ruling ordering administration to admit grandparents and grandchildren under its previous exemption to the travel ban.
Photo: Alex Wong/Getty Images
The U.S. Supreme Court took a cue from King Solomon and split the baby today. In an apparent 6-3 margin (with Justices Thomas, Alito, and Gorsuch dissenting), the Court refused a petition from the Trump administration to set aside a lower-court decision expanding the scope of a "close relationship" exemption to the Trump travel ban to include grandparents and grandchildren. But the Court also overturned the same district court judge's determination that refugees who had not yet entered the country but who had a resettlement agency working on their behalf were exempt from the ban. That question will now be explored in more detail by the Ninth District Court of Appeals, but the travel ban will remain in place with respect to the refugees for the time being.
The order was part of a back-and-forth between the Trump administration and a Hawaii district court judge about how to interpret the Supreme Court's June 26 decision allowing the travel ban to go into effect pending a SCOTUS hearing next fall, but with an exception for visa applicants who had a "close relationship" with U.S. citizens and institutions. Family relationships apparently do qualify, the more distant relationships resettlement agencies have with refugees might not. It is increasingly obvious that refugees will be affected more by the travel ban than traditional visa applicants, which is probably fine with the Trump administration if it cannot get its way entirely.
The Court also scheduled oral arguments over the constitutional and statutory merits of the travel ban for next October 10 and 11.
Aside from the ramifications for the travel ban itself, the order is another indication that Neil Gorsuch is becoming who we expected him to be: a reliable member of the Court's conservative bloc.