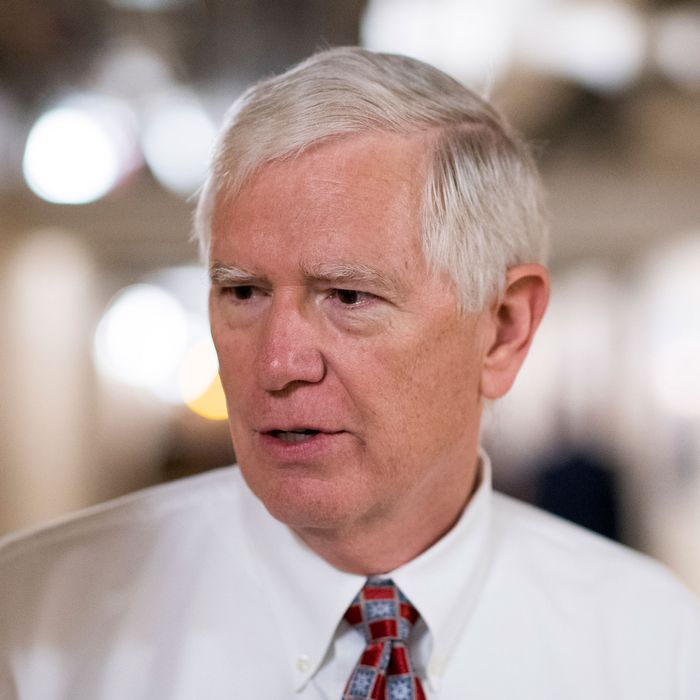 An ad even more tasteless than that tie.
Photo: Bill Clark/CQ-Roll Call,Inc.
An Alabama representative, who was at the congressional baseball game where Congressman Steve Scalise was shot, has used audio of the shooting in a recent campaign ad.
Mo Brooks, a hard-core conservative who is running in the freewheeling, who-loves-Trump-the most Senate primary to replace Attorney General Jeff Sessions, released the 30-second commercial on Monday.
It opens with the sound of gunshots and a man yelling, "Stay down!" Text overlaid on the screen reads "June 14: A Bernie Sanders supporter fires on Republican Congressmen."
Later in the ad, Brooks is shown, with stirring music overlaid, addressing a question from the "liberal media," as the ad puts it, about whether his views on gun rights have changed as a result of the shooting. He answers, "The right to bear arms is to ensure that we always have a republic. So no, I'm not changing my position on any of the rights that we enjoy as Americans."
Congressman Scalise's office was not pleased. Chris Bond, a Scalise spokesperson, told the Washington Post, "I guess some people have their own ideas about what's appropriate." And Scalise's chief of staff tweeted that the ad "makes my stomach turn."
Brooks was at baseball practice with Scalise and other GOP lawmakers on the morning of June 14 when James Hodgkinson, who had compiled a "hit list" of Republicans including Brooks, went on a rampage, shooting Scalise and four others: two Capitol police officers, a congressional aide, and a lobbyist. Brooks applied a tourniquet to Scalise after the shooting, an act he highlights in the ad.
Scalise was left in critical condition and later suffered major complications after his initial recovery. On Monday, in a hopeful sign for his recovery, he videoconferenced with representatives for the first time.
Brooks told the Associated Press that he made the ad because Luther Strange, who was installed to replace Sessions in February and is the Establishment favorite in August's primary, had made gun rights an issue in the campaign.