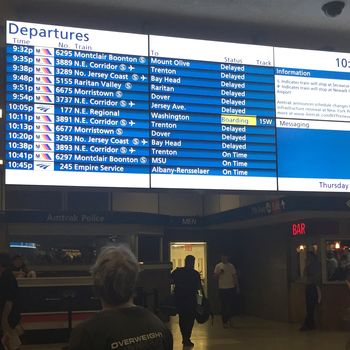 Passengers face even more delays at Penn Station on July 6, 2017.
Photo: THOMAS URBAIN/AFP/Getty Images
Penn Station's "summer of hell" is living up its name, and the extensive track repairs won't even start until next week. At 9:10 p.m. on Thursday, a New Jersey Transit train carrying about 180 passengers and crew members derailed as it entered Penn Station. No injuries were reported, but NJ Transit service in and out of the station has been suspended.
Fire-department officials said they were called to respond to a derailment involving one train car. Photos showed multiple emergency vehicles outside Penn Station.
Rich Denison, a passenger on the train, told the New York Times that emergency workers had boarded to check for injured passengers. He said passengers were told over the train's loudspeaker that the train derailed after going through the Hudson River Tunnel and that a "rescue train" had to exit the tunnel and reenter on an unaffected track. Passengers were finally evacuated about two hours after the derailment.
Amtrak, which owns the station and the tracks, said passengers traveling between New York and New Jersey should expect long delays. Long Island Rail Road and subway services were not affected. It's unclear if the derailment will affect the morning commute.
Penn Station is North America's busiest train station, and it's been plagued by problems in recent months, including two previous derailments, a power outage, and signal problems. Long-overdue repairs at the station, which Amtrak says will cause extensive track closures and delays in July and August, are set to begin on Monday.