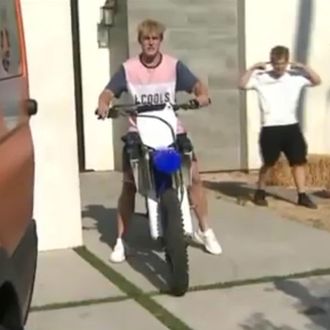 Jake Paul's neighbors used to like their street in Los Angeles. Or, at least, they did until Paul, a 20-year-old social-media star best known for his prank and stunt videos and role on Disney Channel's Bizaardvark, started renting a house in the West Hollywood neighborhood. Since then, the once-quiet street has become a hot spot for Paul's antics — a recent stunt involved throwing furniture into an empty swimming pool and lighting it on fire — and his legion of loyal and loud fans, the Jake Paulers.
A news anchor from KTLA 5 caught up with Paul at his home earlier this week to discuss the chaos he's apparently inflicting upon his neighbors. If you didn't know it was actually a news segment, you might think the whole thing was another one of Paul's gags. In the clip, he climbs atop the news channel's van and shouts "the neighbors hate me." "It's terrible, it's a bad situation, and I feel bad for them, but there's nothing we can do," Paul said. "Jake Paulers are the strongest army out there. Dab." He then … dabbed. "What are thoooooooose," Paul screamed at the anchor and the anchor's shoes, referencing an infamous Vine, before running away from the interview.
Meanwhile, his unamused neighbors told KTLA 5 that they are planning to meet with local officials and law enforcement next week to discuss the situation, including a potential class-action nuisance lawsuit. Paul said his neighbors are right when they describe their street, since he moved into the area, as a "circus." "But, I mean, people like going to circuses," Paul, a man who clearly hasn't heard the latest news about the Ringling Bros., told KTLA 5.