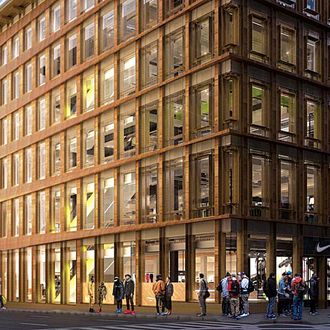 Nike Soho.
Photo: Courtesy of Nike
Where will we shop tomorrow? National chains contract, malls go quiet, and for more and more people "going shopping" means curling up in bed with a laptop. Amazon's recent purchase of Whole Foods intimates that even supermarkets may one day go the way of blacksmiths and soda fountains. In New York, national trends make the leap from the spreadsheet to the sidewalk. A recent report compiled by Manhattan borough president Gale Brewer counted 188 vacant storefronts along Broadway, one of the world's great shopping corridors. Booms and recessions threaten street-level retail in different ways: A strong real-estate market can obliterate fragile businesses; when it falters, some landlords can make more by leaving stores empty than by lowering the rent.
And yet New Yorkers sometimes seem to be swallowed up by high-gloss new malls, as if we have urgent, constant cravings for all the same consumer goods available in any major airport terminal. Underground
passageways connect the luxury bazaar in the World Trade Center Transportation Hub with its twin at Brookfield Place, which means that you can outfit yourself for a beach wedding in Bali, a meeting at Davos, and a yoga class in Costa Rica all without going anywhere at all. Buying stuff in a store may soon become an archaic activity, but in the meantime it's still driving new development. At Hudson Yards, a pair of office towers will be yoked together by a multistory vertical mall that will make the Time Warner Center look puny. The soon-to-be-tallest building in midtown, the 1,550-foot Central Park Tower (actually on 57th Street), will perch above a giant new Nordstrom.
This combination of withering and supersizing could have a powerful effect on street life in a city that has always been shaped by shopping. In the mid-20th century, new patterns gave form to a rapidly evolving city. The growth of department stores created destination districts, nourished by public transit. The era's effusive architectural spirit animated elaborate multilevel shopping palaces. More recently, retail companies have built their own homes — not just fitting out fancy interiors but constructing freestanding, from-the-foundations-to-the-roofline temples to the single brand. In Tokyo, global apparel manufacturers and designers are so closely matched that a tour of recent architecture — Prada Aoyama by Herzog & de Meuron, Tod's by Toyo Ito & Associates, and Sanaa's Christian Dior, for example — can be hard to distinguish from a shopping itinerary. New York, where towers float on a bed of street-level retail, has fewer purpose-built showcases, the Apple Store on Fifth Avenue being the most visible.
What becomes of the ground-floor city when retail mutates into new forms? Some luxury brands might keep their boutiques as indulgences and loss leaders. But as national chains' contracts give up on physical locations, commercial rents could fall, clearing the way for a resurgence of small stores: designer cookies and pet spas, but also used-book stores and shoe-repair shops. Or maybe only bars and restaurants will survive, and we will repurpose vacant storefronts into living spaces for a housing-strapped city.
Amid all these conflicting trends, the architecture of retail is feeling its way, with sometimes-happy results. The new Nike palace by BKSK, on Broadway at Spring Street, is a paradox, a small structure that contains an immense store and looks at first glance like it was always there. The façade, which fades from masonry to glass as it approaches Broadway, turns it into one of the finest commercial buildings in recent years. Inside is a jangling theme park of high-tech comfort and moisture-wicking synthetics. But the sepia exterior looks as though it has just leapt from an old photograph.
The six-story beauty replaces a two-story Art Deco "taxpayer" — the sort of cheap low-rise structure that developers threw up quickly in the hope of bringing in enough revenue to pay taxes on the land. Scroll farther back in time and you find a six-story 19th-century hotel with a fanciful cornice and exuberant finials that disappeared along the way. A slice of that brick relic remains, facing Spring Street with windows outlined in gorgeously ornate cast-iron frames (but partially hidden behind a fire escape). Next to that remnant, at the corner of Spring and Mercer Streets, is the battleship-gray cast-iron building where Donald Judd's studio remains preserved in all its raw brick-and-board glory.
Every new structure in New York is a negotiation with the past. With the Nike building, the architects did their research. Prodded to excellence by the rigors of working in a historic district (and satisfying the Landmarks Preservation Commission's demands), they avoided either a boilerplate box or a facile pseudo-historical knockoff. They turned up photographs of the old hotel that showed three different kinds of cast-iron lintels — the kind of gratuitous graciousness that distinguished one façade from another in an era before ornamentation was considered gauche. And so BKSK exercised the architect's prerogative to enshrine what time erodes, translating the cast foliage designs of the 19th century into contemporary digital abstractions molded in glazed terra-cotta. They used those fancies to frame windows and enliven the undersides of protruding courses between floors. Wall morphs into ornament as the horizontal strip between each floor narrows and twists on its way to Broadway, ending up as a band of terra-cotta tiles.
Inside, the architects left a stack of open spaces contained by a visible steel grid and topped by a half-court where shoppers can try out high-tops by shooting hoops with a Nike-branded athlete. Runners can work out on a treadmill facing a wraparound screen that puts them in a virtual Central Park. The real city shines through the windows — a sun-filled array of them with views of sky, brick, cast iron, and sidewalk. If big stores generally hold on to customers the way casinos grab gamblers — with artificial lighting, music, and disorienting floor plans — this one keeps reminding them that they're shopping in New York. The architecture shows that athletic gear thrives in an urban habitat, and though it will one day suit another tenant and a new use, it offers a retro urban-shopping spectacular just at a time when consumption is retreating from the streets.
*This article appears in the July 10, 2017, issue of New York Magazine.