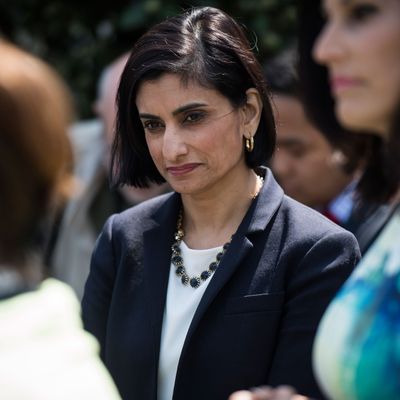 Seema Verma, Trump's director of Medicare and Medicaid.
Photo: Jabin Botsford/The Washington Post/Getty Images
For the entire last seven years, the Republican party's central health-care strategy has been avoiding committing itself to a specific alternative against which the hated Obamacare law can be compared. Remarkably, that commitment to vagueness has persisted even as Republicans have controlled the government. Every version of a Republican plan has been quickly withdrawn, with party leaders promising queasy moderates that something better will take its place.
The latest version of this "something better" plan is a promise to inject $200 billion in "wraparound" funding to help defray the costs of insurance for people who would lose Medicaid. White House health-care adviser Seema Verma is promising wavering Republican senators from Medicaid-expansion states that the $200 billion will alleviate the humanitarian damage created by the Medicaid cuts.
Of course, the new money infusion has not been formally added to the bill and scored by the Congressional Budget Office. But the Urban Institute has tried to nail down the effects in a new study. And it finds that the $200 billion would finance little more than two years' worth of offsetting losses.
After the two years and change, the money would run out, and coverage losses would go back to the high levels (22 million) estimated under the bill without the extra money. The promises are a fig leaf.